Pack your bags to  make merry at Pushkar Camel Fair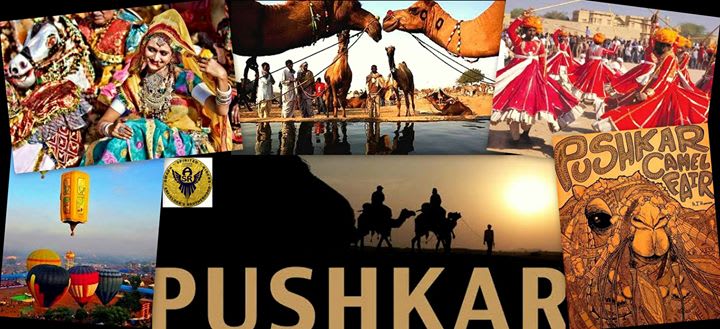 The exuberant annual Pushkar Camel Fair turns the beautiful holy town of Pushkar, situated in the north Indian state of Rajasthan come alive with the peculiar sight of an old traditional-style Indian festival witnessing explosions of color, song, and dance including camel trading, carnival rides, and holy rituals. Held in the month of November, or the Hindu month of Kartik, this 2016 the popular Pushkar Camel Fair is organized from 8 November to 15 November.
The festival beholds the large masses of Cameleers and Rajasthani farmers who come to the town to attend the fair and gather to buy and sell their camels, cattle, and horses and additionally enjoy the most thrilling formal program of activities arranged by Rajasthan Tourism. The camel action trading is completed during the first few days of the festival, after which the focus shifts to heightened religious celebrations and competitions.
Starting from watching the shaved and dolled-up camels, entering into beauty contests, camel races, or either made to dance, or participate in an exciting competition where the camels are tested to bring items and visitors riding upon them, the fair also holds in numerous other joyous events and competitions  on the festival ground.
The Longest mustache contest for the men showcasing meters long mustache curling against the face, weight-carrying contest and the turban-tying contest for foreigners, including tug-of-war face-offs and a lively cricket match between the Pushkar club and a team of brave tourists are fun to watch. While for Women, the Bridal competitions where young women are dolled up in traditional Indian bridal dresses to outdo each other and compete for the most beautiful brides to be are organized.
Other traditional entertainment witnessed throughout the fair includes, musicians singing vibrant folk music, performing magicians, dancers, acrobats, snake charmers, fortune tellers to entertain the crowd. Pushkar Camel Fair has innumerable stalls selling authentic traditional cuisines, food and snacks, trinkets, jewelry, apparels, carpets plus a wide selection of handicrafts items to gaudy livestock tassels and vintage gypsy accessories.
The final day when the Pushkar Camel Fair comes to an end tourists' visit the pilgrimage center, Lake Pushkar to bathe in the holy water to wash away their sins and then visit Brahma Temple, the only temple in India dedicated to Lord Brahma to receive special blessings from the lord of creation. The fair witnesses a large number of tourists coming from around the world to enjoy the air of leisure enveloped by a spiritual element.
To get here comfortably at this world famous Camel fair, the closest railway station is Ajmer while alternatively; the nearest airport is in Jaipur, around two and a half hours away. From where you could further hire a taxi up till Pushkar. For accommodations it's recommended to book either simple guesthouse, luxury tented camps set up in the desert especially for the festival, heritage hotels, well in advance because due to the influx of visitors during the camel fair, the prices increase accordingly.
Pack your bags and head towards the enthusiastic annual Pushkar Camel Fair to enjoy the globally famous annual religious and exciting cattle fair.
Famous Bollywood shooting locations in India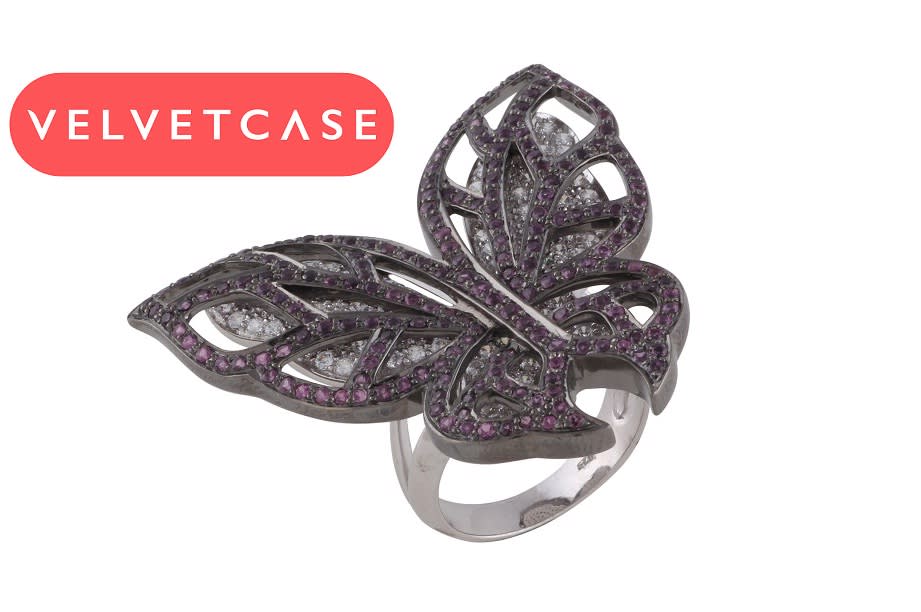 You know what's best thing about Bollywood after the high voltage glamour and acting? It's the location of course. Our Bollywood film makes have the propensity to take us to the enigmatic locations that become iconic overnight. They might be ordinary locations before but Bollywood turns it into tourist spot by creating a stunning imagery. Bollywood songs are often shot at exotic places that one dreamt of visiting once and most of us wonder where they have been shot. It is assumed that all of them are either abroad locations or graphics but that's a myth. India has more breathtaking locations and you don't need to travel the world around to see the beauty. So, grab your munchies because here is a list of 10 iconic Indian locations where Bollywood shot their famous films and songs.
In the dimensions of Manali and Rohtang Pass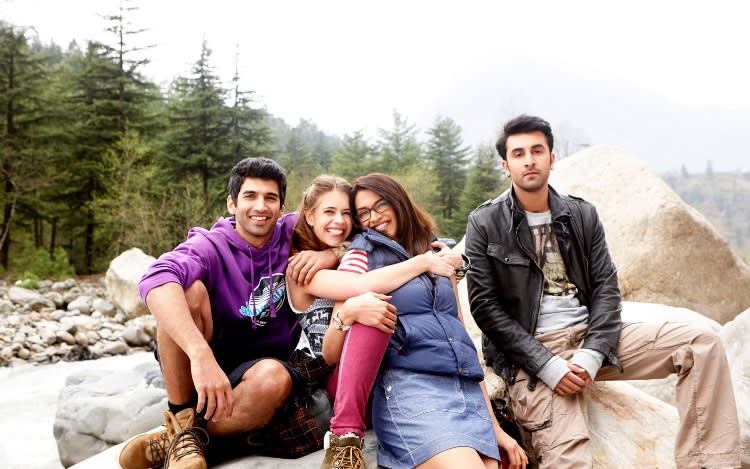 Do you remember kareena (Geet) dialogue "Mujhe na pahad bohut pasand hain" from Jab we met? Well, this simple love story was shot in the iconic locations of Manali. The mystic hills and valleys, oak trees and gushing river got all the attention of the film makers and viewers too.  Previously, Rajesh Khanna's 'aap ki kasam' and Rishi Kapoor's 'Heena' painted manali on the cinematic canvas of Bollywood. Later, 'Ye Jawani Hai Deewani' set the trekking goals for all the teens. Such movies gave a break to Manali's tourism and now Hadimba Temple became a must visit place there. Manali gave us one more beautiful location Rohtang Pass which is located in its periphery. Located 51km away from Manali, this location is all snow covered and movies like Jab we Met, DevD, Highway have been shot. It makes a perfect place for biking enthusiasts. This place will surely make you want to pack the bags immediately.
In the alpines of Ladakh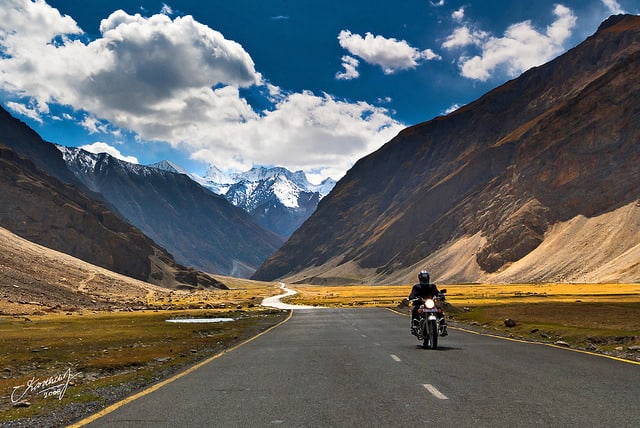 Do you know the place where last scene of '3 idiots' was shot? The place where Shahrukh Khan jumped into the river to save drowning Anushka Sharma in 'Jab tak hai Jaan'? both the movies were blockbusters in the history of Bollywood and offered us the locations that anyone would want to be. Ladakh was the place where these scenes were shot. The lake you can see behind is 'The Pangong Lake' and it has become one of the favorite location of film makers. You might have a tough time to reach this place due to unfavorable climatic and geographical conditions but the wait and pain is worth a while. This place has got minus temperature and is also known as cold dessert of India. You can have a fantastic road trip to Ladakh with your gang.
Love is in the air of Kerala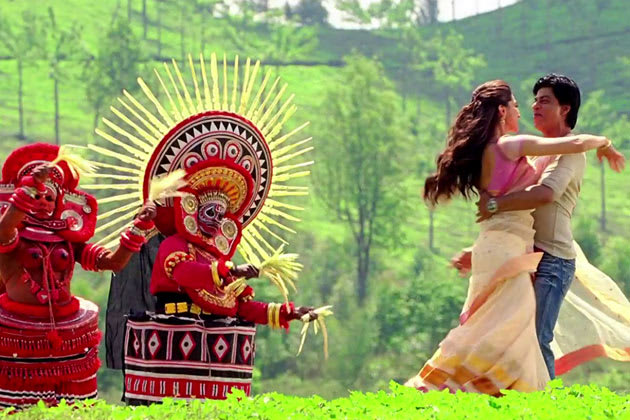 Kerala is primarily known for the backwaters and tea plantations but this time Bollywood broke the connotation. Can you recall the song 'Kashmir main tu kanyakumari' from 'Chennai Express'? This song might not have that much of Kanyakumari and Kashmir but it definitely has the iconic shots from Kerala. Have you seen Deepika Padukone dancing in Kanjiwaram Sari with Shahrukh in amidst of picturesque location? Well, that's too much of introduction about the place. Munnar is the place behind the Chennai Express, Life of Pie and Nishabd. Majority of the scenes were shot in Tea plantations, Dudhsagar Falls, Vattamalai Murugan Temple, Pamban Road and many more places. With this Munnar has become the fast romantic destination in India.
Get lost in the royalty of Jaipur and Udaipur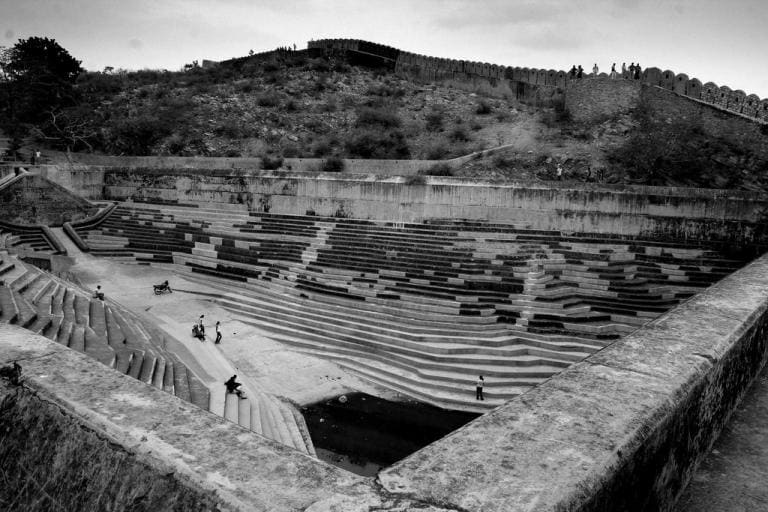 Jaipur, The pink city of India has always been famous for its mesmerizing architecture and historical monuments. These locations, forts and desserts are so captivating and it's no big deal that it caught attention of Bollywood directors and producers. Remember the iconic beer drinking scene from Rang De Basanti when Aamir Khan and Sharman Joshi's free fall from public water tank of the Nahargarh Fort. It is located in the Aravalli Hills at the height of 700feet catering an exquisite view. Movies like Ajay Devgn and Abhishek Bachchan's Bol Bachchan have been shot there.
Talking about Udaipur, it has to offer a lot with its exuding royalty. Movies like Yeh Jawaani Hai Deewani, Ramleela and Khoobsurat were shot in the iconic royal heritage sites of Udaipur. The best place is the Udaipur Palace if you want to have a taste of actual royalty. Whether it is destination wedding or spending a long weekend, we can't just stop finding new reasons to take a plunge in the royalty of Udaipur. But they are better for indoor than outdoor.
Dilwalo Ki Delhi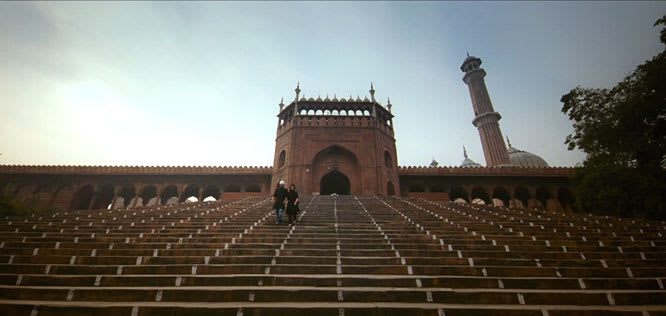 The epicenter of India is not only the place of all the culture and heritage but also get the lime light of the Bollywood directors. It is the current muse of Bollywood, from Jannat 2, Dilli 6 to 3 idiots, Rockstar and Rang De Basanti, Delhi is for sure on the hit list. The iconic locations like India Gate, Humayun Tomb, Qutub Minar, Chandni Chowk and many more are on finger locations. Delhi has plethora of monuments, markets, universities and the metropolitan aura. 2 states and Tamasha was shot in Hauz Khas Village.
Go-Goa-Gone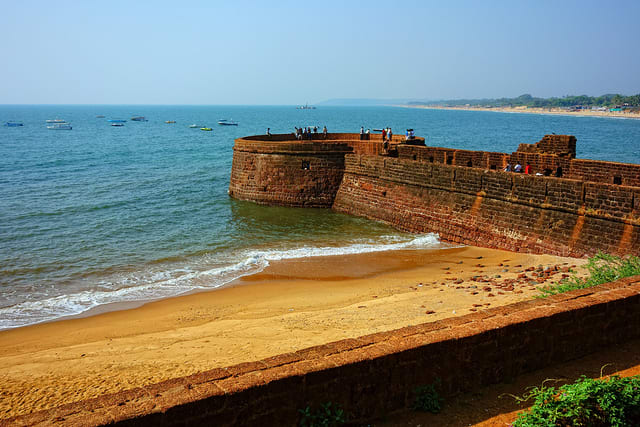 It is no big deal to say, Goa is the second most captured location in India. The beaches, the churches and breathtaking waterfalls Goa is a replete of all. It is the place where the whole country flocks to for some peace and rave. Movies like Dil Chahta Hai, Josh, Ek Villain, Golmaal 3, Finding Fanny, Singham and Pyar ka Punchnama. The Aguada Fort is majorly shot in Goa. Dhoom and Honeymoon travels made Goa a must visit destination for the tourists. Ironically, it has more tourists than the localites.
Stories from Kashmir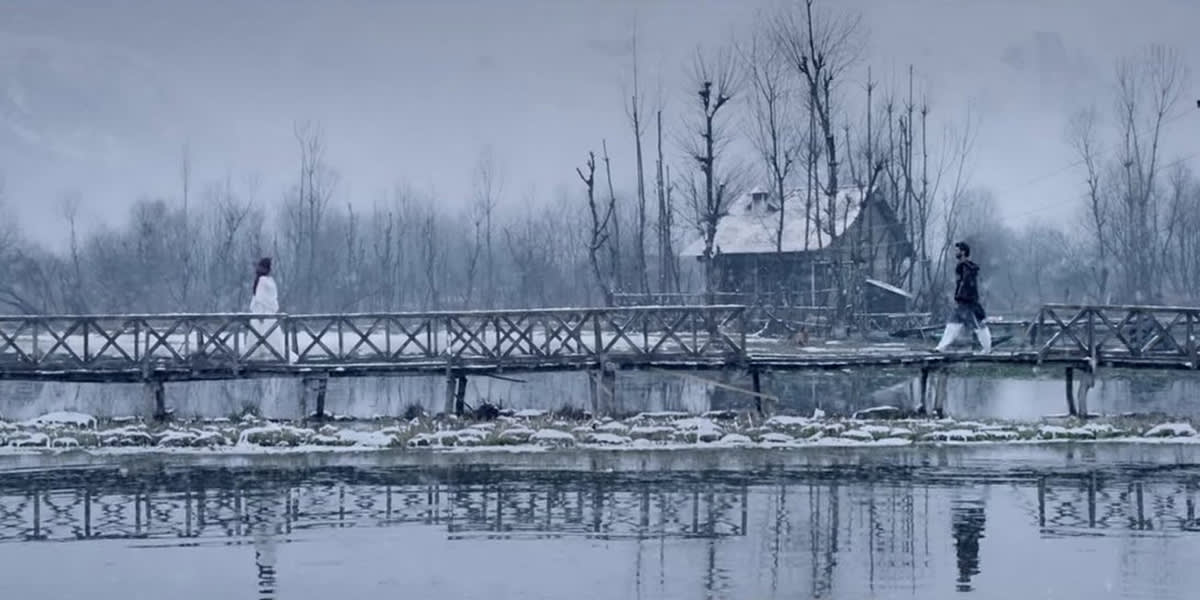 Kashmir is one of the breathtaking destinations in India. How come Bollywood not fell in love? Ever since Shammi Kapoor started, he was known for his dancing routines and romantic affairs in the Kashmir Valleys and meadows. Gulmarg became the top tourist destinations after ample of Bollywood blockbusters filmed in the snowcapped mountains. Dal Lake is where all the love songs in 80's were shot and now Rockstar, Highway gave their debut too. Shahid Kapoor starred Haider was shot in the captivating snowcapped regions of Kashmir. This place has something that can leave anybody ogle about. In fitoor Katrina sprinted in the snow laden paths which was mere picturesque.
The contours of Kolkata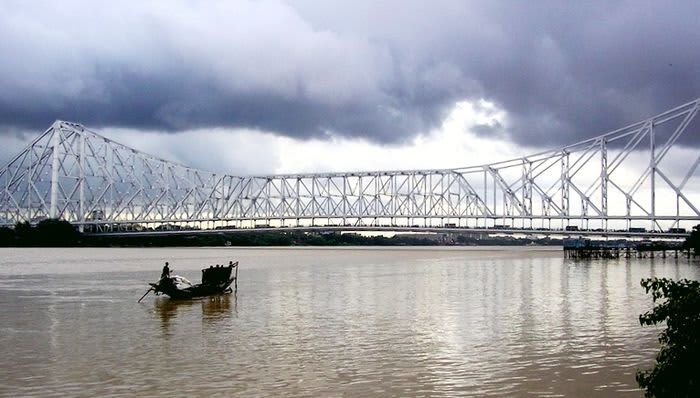 You love it or hate it but cannot ignore it- that's what Kolkata is! Bollywood has an unsaid love with this place and we know it. The culture, the people, the location and the Hawda Bridge is what Kolkata makes director's first choice in Rekki. Be it the Durga Puja in Vicky Donor, narrow galiyaan and Bengali essence in Kahani, tramrides in Barfi, cool businesses in Gunday or Hawda Bridge in Detective Byomkesh Bakshy, Kolkata set the Bengali culture alive in each debut. Bollywood took the time back in 80's with Parineeta, Lootera and Gunday and still Kolkata was captured in all of its glory, almost effortlessly.
Mumbai hai Meri Jaan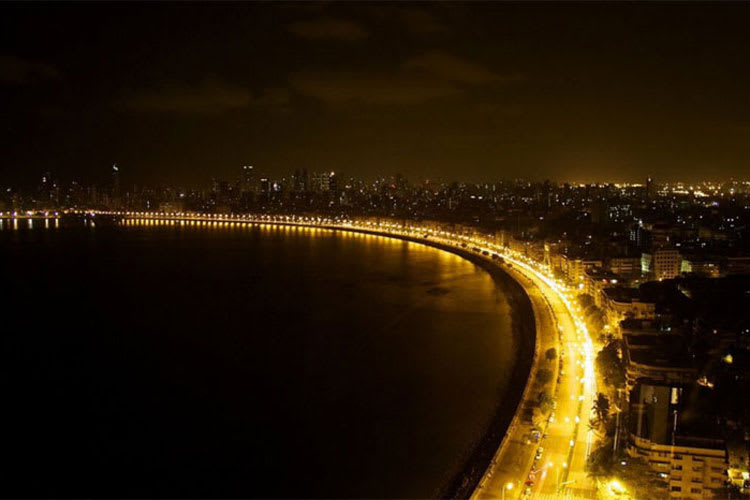 The home of film industry, the place where gate of India located, the location where Khans to kapoors, bachchans to Kumar resides well it's the city of dreams- Mumbai. Despite numerous movies capturing the local iconic locales of this city, our Bollywood can't get enough of it. From Dhoom, Wake up Sid, Munna Bhai, Talaash, Saagar, Ek Deewana Tha and Slumdog Millionaire was shot on the Marine Drive of Mumbai.
The divinity of Ludhiana and Amritsar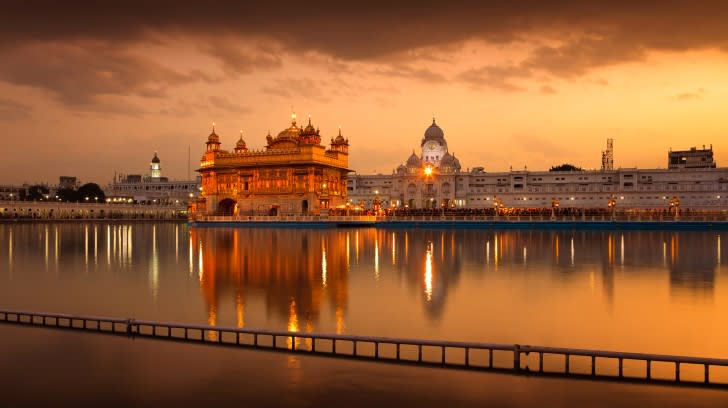 Punjab is where the mustard fields sing songs of the pride and culture it holds back. This divine and small city of Punjab has contributed a lot to the films. It makes a perfect hidden getaway from the metropolitans and land into the land of harmony and culture. Crucial scenes of Rang De Basanti were shot on the Doraha Fort because of which now it has become a favorite place for people to chill and enjoy with families. Jallianwala Bagh, Khalsa and Golden Temple are the favorite shooting spots there. Movies like Gadar, Bride and Prejudice, Rab Ne Bana Di Jodi, Veer-Zara and The Legends of Bhagat Singh were flicked there.