Witness the bird's eye view at Bir-Billing – A Paragliding site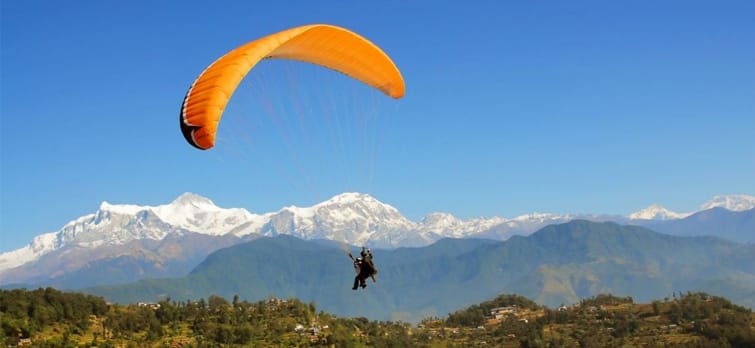 Ever wonder how the Himalayas look from the sky? I know you travel in the plane and watch it but a small window of plane won't let you feel the air. To feel this air and the height of the Himalayas there are many Paragliding schools in Himachal Pradesh, Uttarakhand, Sikkim and Arunachal Pradesh. Among all these places, Bir-Billing in Himachal Pradesh hosted India's first Paragliding World Cup in 2015.
Bir is a village in district Kangra of Himachal Pradesh and is very popular among national and international tourists. It is mostly known for spiritual studies, camping, meditating and paragliding. Paragliding is connected to this place for many years as the local people often organize many competitions and championships here. But after World Cup 2015 tourism has touched another level, adventurous people from all around the world started visiting this place. During the months of paragliding, one can experience hundreds of colorful gliders in the sky. World Cup 2015 also witnessed something same like this but there was the same color of all gliders and as they started taking off from the billing, the paragliding launch site, it started making a chain of those hundreds of gliders.
Apart from paragliding, Bir has several monasteries and a stupa. The most famous Monastery is Sherab Ling Monastery which is located in upper Bir. You can go there by car, it will take 15 mins to reach or you can talk an hour walk to the monastery. Chokling Gompa is another monastery of Neten Chokling, who first came here and helped many other Tibetans to settle here. Many students also come here to study classical Indian wisdom tradition in Deer Park Institute and to attend meditation programs hosts by Dharamalaya Institutes. With all these attractions you can also enjoy trekking, camping and hand gliding as well.
If you have heard about Bir billing earlier then you must have heard about Camp Oak View. It's the most chosen camping area near Bir, the village is Ghornala. Oak view is 5500 ft. from the sea level so the magnificent view of this place will surely suffice your trip.  Nature walk, mountain biking, and bird watching are few more activities you can do near the oak view camping area. It is just 3 km from the paragliding landing site so after paragliding, you can easily get back and rest for the day and for non-paragliders you can enjoy the landing of gliders.
How to Reach:
By Road: You can opt for a bus from New Delhi to Baijnath, which will take around 10 and half hours to reach (suggested an overnight travel save time) and then from Baijnath, which is 10 km from Bir, taxis, and local buses are available.
By Train: You can board a train from New Delhi to Pathankot and then from there you can board a toy train to the nearest railway station of Bir i.e. Ahju. Toy train will be time-consuming as it will take 7hrs to reach Ahju. Or you can hire a direct taxi from Pathankot to Bir.
By Air: Daily flights are available from New Delhi to Dharamshala Airport (Gaggal Airport). Airport is 67 km far from bir which means it will take 2 hrs through taxi to reach Bir.