Find Out the TV Celebrities and their Mother Love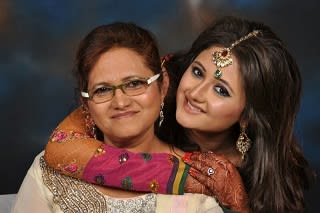 Its time of the year to show your love and gratitude to the most lovable person on the Earth. Like every year this Mother's day too, there would be a long list of plans to surprise your Mother and let her smile big. She is the biggest blessings that every child cherish throughout once lifetime.
So, just like everyone our TV actors too have the similar gratitude towards their Mothers. Let's know what the actors have to say on this Mother day.
Ssharad Malhotraa (Kasam, Colors TV)  : I have been brought up in Kolkata. My mother has given me excellent upbringing. She has never said no for anything to me. She has always tried to  keep  me and my sister in discipline. I stay at Bombay, still not a single day goes without talking to her. Whatever I wanted I could always ask her and many a times she used to understand before I even asked . She was a big motivator in letting me participate in Zee Cinestar Ki Khoj. I miss my mom and she keeps coming to Bombay every three months to cheer me up. She is always concerned about if i have eaten food or not. She is always happy in my happiness in vice-versa. She is my strength and support system. Whenever I have been low she encourages me to look at the positive sides.
Mrunal Jain( Last seen Colors Tv, Uttran ) : I can't think of  life without my mom, Vidya Jain. She knows my heart very well. Being brought up in the Marwari setup it was not at all easy to consider a career in acting but my mother encouraged me and convinced my father Shailesh Jain to allow me to do acting. My mother knows everything including the good and the bad things. She can read my face very easily. She catches my lies. Usually boys spent more time with mom, so do I.I can't think of life without her. Her blessings, encouragement and gives me necessary motivation. She never stops me from doing anything including the long gym hours and always encourages me  to think positive.
Krishna Gokani (Last seen  in Hamari Devrani,Star Plus): When I was a teenage girl, and I wanted to meet with my friends or have a girls slumber party my mom convinced my dad. She has always saved me from my fathers scolding. My mother is the most special person in my life, that's how close we are. I am comfortable? I am more than comfortable with my mother, she is She is my best friend. And we have a superb compatibility.
 Rashami Desai (Dil se dil tak,Colors Tv) : My mom's name is  Rasila Desai. She is a teacher. I am proud of her and her upbringing. I was a shy child initially but in school I became active in cultural activities. My mother is a teacher so I was always a disciplined child. I had learnt the value of discipline and it has always helped in my life. My mother has taught me that hard work is the only investment that never fails.  My mother is my lifeline. I can't think of life without her. Her happiness is most importance to me. She is a positive person and one of the greatest influences on me. She has always stood by me through thick and thins.
Vahbiz Dorabajee (Last seen in Saraswatichandra,Star Plus) : I am very proud of my mother  Firoza Dorabajee and she is my best friend , my sister, my confidante. My family is because of my mother. I love mother she is very beautiful, full of positivity, bubbly. She can even sing and I love her very much. I have learnt everything from my mother. I have learnt family values whatever I am today is because of her. In spite of working in this glamorous and competitive industry I have learnt to be a family person, to be supportive and positive always. I am her replica.