32 actors rocked the Aaj Tak's 'Happy New Year Eve' welcoming 2017 with full Vigor!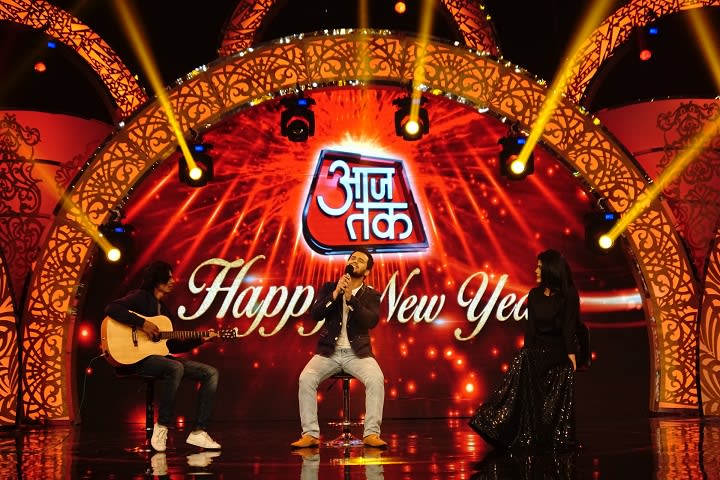 To ring the New Year in a full swing, India's number 1 and most watched News Channel Aaj Tak on 31st December brought an extravaganza with film stars, TV Stars, Singers and dancers to celebrate the New Year eve. The best of dance moves, musical tunes, and comedy seen on this special show were shot at Mumbai's Filmistaan studio.
King Khan, Shahrukh and Sunny Leone too joined the Aajtak New year celebrations with their fun moments. Along with them, the occasion saw almost 20 TV stars gracing the occasion and gave scintillating dance performances. While popular actresses like Rashmi Desai, Jasmine Bhasin, Tejaswi Prakash, Jyotsna Chandola, Shivani Chakavorthy, Sudeepa Singh and Simran Parinja were seen dancing to popular numbers of 2016. The celebration of the eve held a special act of Naagin created by Icchapyaari Naagin -Priyal Gaur and Mishkat  Varma. Along with the host of Aajtak's popular show Saas Bahu Aur Betiyaan, Pooja Kanwal and Nidhi Asthana, the whole 'Naagin' dance was performed on the stage.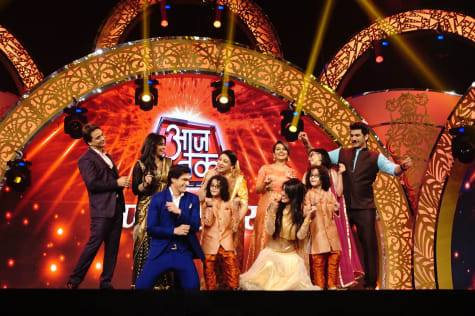 The highlight of the evening was a special act by the team of Star Plus most popular show 'Ye Rishta Kya Kehlata Hai'. In a special dance sequence conceived by show producer Rajan Sahi the lead actress of the show Naira played by Shivangi Joshi gave a dance performance on Sasuraal Gendaphool. Naira while introducing her new in -laws family – The Goenka Family on the show involved everyone to grace the occasion with full enthusiasm. Naira and Karthik were seen romancing on the stage while the whole family danced on 'Ye Rishta Kya Kehlata Hai signature song.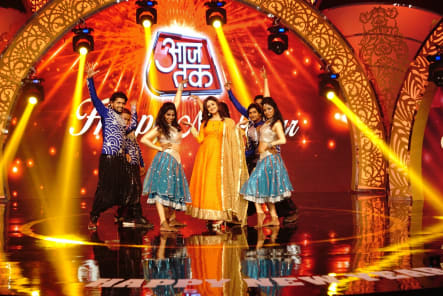 The show was well managed and hosted by popular Aajtak anchor Shweta Singh. The star-studded evening became sheer musical with the special musical performance by father -son duo Udit Narayan and Aditya Narayan. They sang each other's songs and also danced on their popular numbers. The musical evening was further enhanced by the performance by popular singer Palak Mucchal and composer Jubin Nautiyal. Joining the musical stage new singer Payal Dev also belted out her hits on stage. The surprise of the evening was when a musical concert by actor Ankush Arora who performed in the show Ye Vaada Rahaa began his performance as a romantic melodious singer.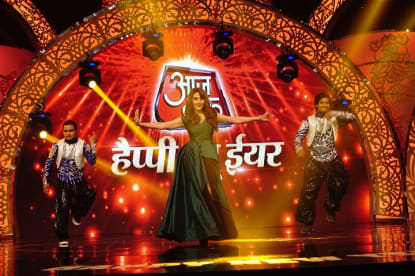 Aajtak 's Happy New Year special evening became more special with the special dance act by dancer Sambhavna Seth. Dance Guru Terence Lewis also gave a special dance performance and taught the audience the best dance moves to dance in the party this year. Internet sensation Pammy Aunty also kept the audience in splits with her jokes, dances, and even singing.The Aajtak New Year evening saw a romantic twist with a romantic dance performance by Shivya Pathania and Kinshuk Vaidya.
Altogether the show telecasted was a big super duper hit package that kept all the guests all occupied to have endless fun and joy.
Yesha Rughani from Hero Gayab Mode On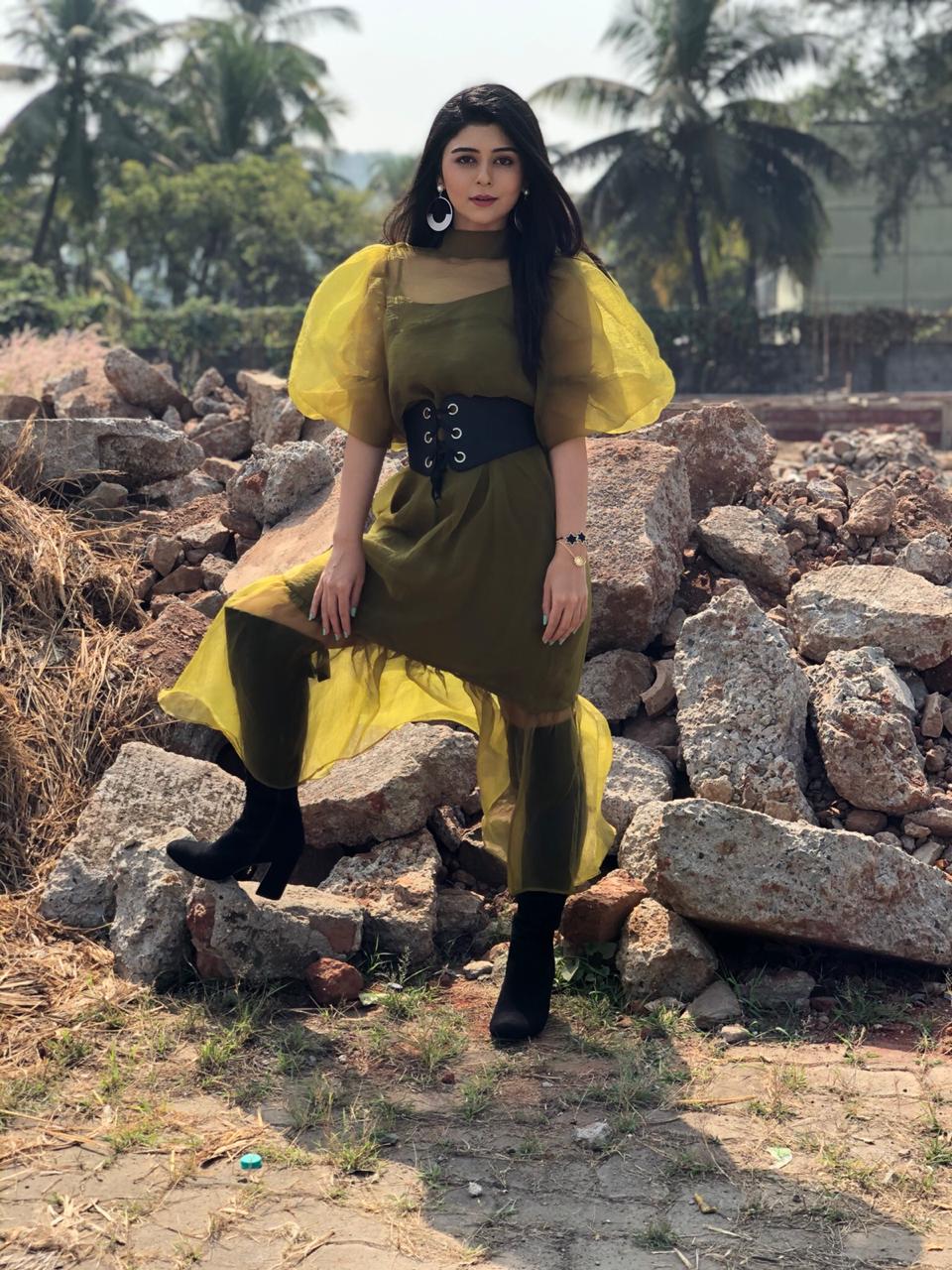 Working during a pandemic is no easy feat, but actor Yesha Rughani, who was last seen in Muskaan, says that all precautions are being taken on the sets of her brand her show Hero Gayab Mode On. Talking about it, she says, "I think new normal has become a lifestyle now. Whether I am going for work or something else, I have to follow precautions. Obviously, you are scared. But on the set, we take many precautions, medical people are there, they check us every day. The makeup and hair stylists are wearing their kits. So, I think overall it's a secure working environment. I hope everybody stays well and fit."
The actor is back on the sets after almost a year and is loving it. "We wrapped up Muskaan's shoot in December last year and this show is launching December. We have started shooting from November so I think almost a year. It just feels too good to be back and I think I have been missing being onscreen. I missed shooting and I am loving the feeling of getting on the makeup chair, the entire routine, listening to action, cut, roll each and every minute detail of shoot life. It's fabulous to be back," she says.
In fact, she's got a lot of appreciation for her look too. "I rejuvenated myself during this break. I got into this healing thing where I was on a strict detox and my skin healed, my hair, my body healed. I was in my comfort zone and used to wake up on time and follow a proper routine, even though there was a lockdown. I had ample time in the lockdown to take care of myself. I am fresh as a flower now and all set to rock again. For the new look, I am getting really good reviews because people are seeing me like this onscreen for the very first time. My first two roles were very different. So, seeing me in a totally different avatar with short hair is exciting. I have really lost weight, there is a different kind of look and feel to the role. I am getting a very good reaction and I am loving it," she says.
Meanwhile, Yesha started a balloon business too during the lockdown and plans on balancing both her acting and business venture. "Lockdown has, of course, changed our lives in many ways from being able to value things to be grateful to life, self-healing and taking care of yourself, self-discipline. I ventured into a new business. I love to be very busy so I think it wouldn't be a problem to manage both the things. I have my sister also who is taking care of this business, apart from me. I think it works for us. I also carry my laptop and everything to shoot so that if I get some time, I make some designs and send them across. I think it's going to be fun to manage both," she says.