Your guide to Bridal Vanity essentials
Your big day is finally here and making you both anxious and excited. The last minute fittings, never ending shopping, incomplete arrangements, and the invitation circulation must be keeping you busy enough but in all the chores don't forget to keep your vanity on top notch because Beauty is one major concern, don't you think? Being Dulhan is not an easy thing. Picking apt makeup essential is as important, all you need is the SOS vanity kit to look kiss-proof the whole day. To sort half of your burden here we go with the list of some essential items that will intact your pre-marriage glow after marriage.
Primer is one primary
A Proper base is the essential for every bride because at the end of the day radiant glow is what everyone looks forward in a newly wedded bride. Primer act as a mediator between the foundation and the face. It also makes the makeup stay for longer. Purchase a high-quality primer that contains the rich vitamins as it will help your face to breathe naturally. The best thing about primer is that it acts like a concealer to hide wrinkles and blemishes. For a neater look buy concealers as well.
Face powder will have your back
Face pressed powder is a crucial piece making your face spotless and adds texture. Buy the best quality pressed powder that matches your skin tone as well. Pick according to your undertone which would complement your overall look. Besides the texture job, pressed powder keep your face sweat proof as well. For your touch ups on beachy honeymoon, this will surely be the knight in shining armor.
Dip in the lustrous lip shades
Lip shades are known for turning tables in a make-up game. Lip colors have the ability to enhance your overall look and it provides a glow element on your face. It is really not an easy task to pick up a right lip shade. For this know your undertone first and then look out for fun shades. Shades of pink, red and tangy colors are one best picks for any newly bride. In winters, to avoid dry chap lips keep a balm in your makeup vanity. You can also buy a clear gloss that can be applied over any matte lip shade to give you a two-in-one experience.
Eyeliners because eyes speak
Make is literally incomplete with good eye makeup. Eyeliners that are smudge proof and stay for longer are the need of the hour for every bride to be. Eyeliners and kohl add a dramatic element to your look. Being a sensitive part eyes need your little more attention. Buy best quality eye makeup to prevent the damage. You can try colorful liners or can have some of the shimmers to add a grace to your eyelids. For brighter and big eyes, try the waterproof mascara.
Keep your cosmetic tool kit already
For more professional and artistic way, your cosmetic kit is the tool for a patch free and streamline makeup altogether. The set includes powder brush, lip liner brush, eyebrows brush, eye shadow and liner brushes that will leave with a flawless makeover. For your best touchups, the cosmetic kit is the essential without a doubt.
The unforgettable Fragrance
The fragrance is the most attractive thing about any person. To feel good you need to smell good. You can have a collection of sweet feminine perfumes that will make your partner go mad about your fragrance all day. Pick from flowery and fruity flavors. If you have a budget then doesn't mind on spending a bit more for soothing fragrance. Look out for perfumes and deo that stays for a longer period.
Moisturize with body lotions
Tinted moisturizer is one of the best things for winter as it not only keep your body hydrated but also make it soft as it is light in nature. Besides the hydrating formula that every second lotion offers tinted moisturizer allegedly brings a flawless glow to your skin and make it look young as ever. For an extra oomph and fake blush apply tinted moisturizer this winter on your face. Never forget, hydrated body looks the best and well taken care of.
Face cleanser
Collecting makeup and forgetting about the remover is a common omission. If you are doing that bit makeup then you must remove before going to bed. Washing face with a regular face wash will not let the makeup out completely. For this, you need cleansing milk or astringent or a face cleanser to avoid irritation.
Glimpses of Ravishing Wedding Awards 2017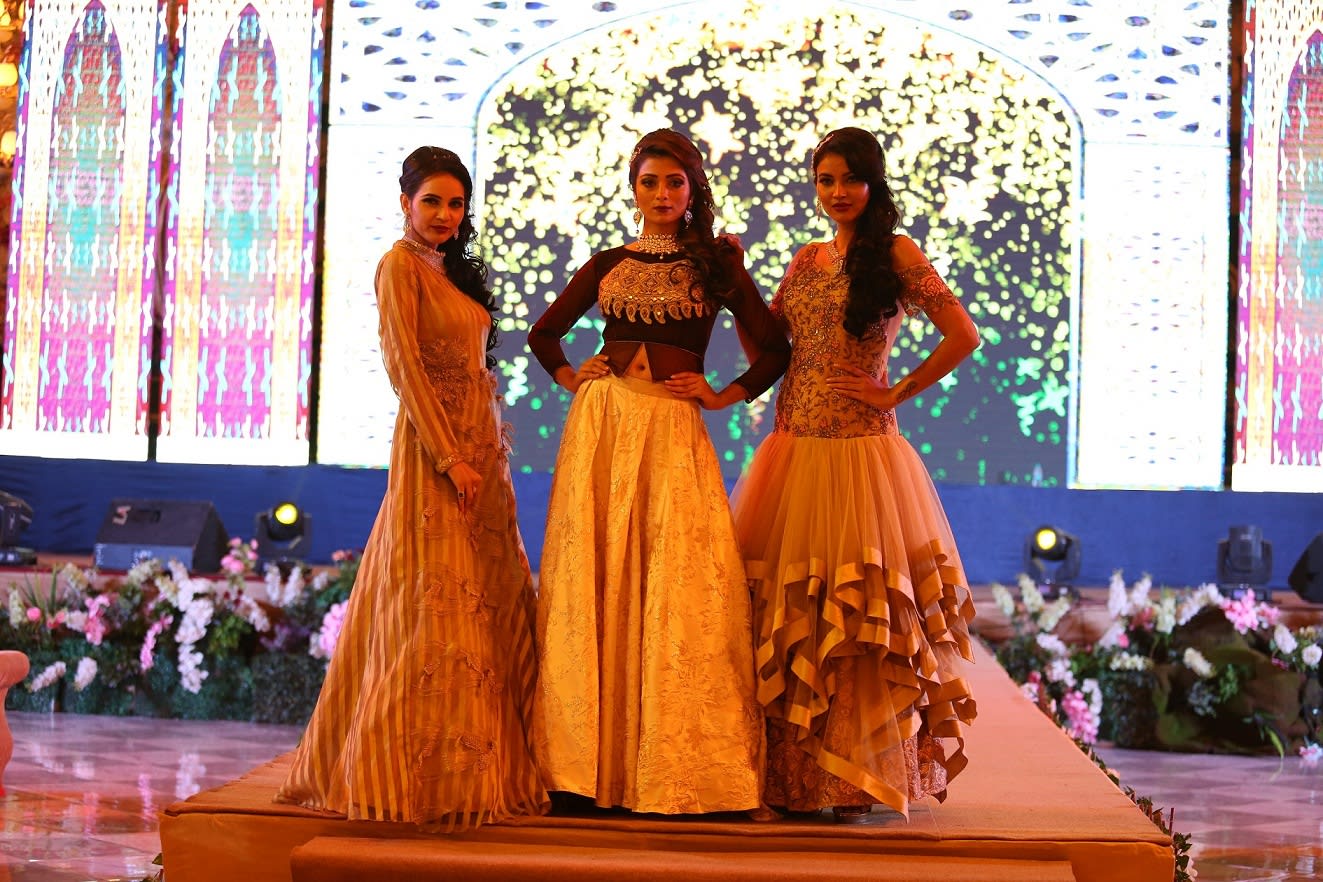 Delhi witnessed an evening as gorgeous as the celebrities and audience that graced it. The Ravishing Wedding Awards gala celebrated the achievement and eminence of the Indian wedding industry which was in full attendance at Orana Hotels & Resorts, Delhi.
Bollywood actress, the evergreen UrmilaMatondkar came on a vintage car and added glamor to the stage and the show by felicitating the winners of awards in various categories like wedding planning, catering, décor, bridal wear& groom wear designing, hair and makeup, jewelry and much more.
The event was hosted by RK Nanda and Shweta Nanda of Magic Media World and was managed by Sunny Sabharwal of Pulse Events. Anuj Bery of Murano gave support by being an associate for the show. Amit Gupta of Orana Hotels & Resorts was gracious enough to be the hospitality partner and Konica Arora dolled up the models by being the hair and makeup partner. The rock solid support of many names of the wedding fraternity was evident –Dharmendra Singh of The Wedding Frames, Rahul Makkar of Purpleberry, Suneet Jain of Armour Invites, SaurabhKatyal of Imagine Ice, Vivacity Entertainment and more.
The showstopper for the evening was literally, the stunning, Malaika Arora who, not only felicitated the winners but also walked the ramp for designer AsmaGulzar who showcased her indo-western collection title 'The Augustan Aristocracy'. Malaika dazzled in jewelry from Tirupati Jewels by Varun Mittal and took the stage with élan.
Both the actresses praised the talent and the hard work of the wedding fraternity and applauded the platform that The Ravishing Wedding Awards provided to them. Awards were given in 50 categories and won by many talented individuals like Rikant Pitti, , SumitKohli, Suneeti Soni, Manali Tanwar, AnjuLamba, KritiDS, PralayDatta, Manmeet Kaur, Shefali Agarwal, Gaurav Chauhan, RatikaVaish, YashikaSehgal, Neeti Ahuja, DushyantKathuria, TaaraMalhota, Neha Munjal, Ankita Roy and others.