Watch your favorite stars in their Gym attires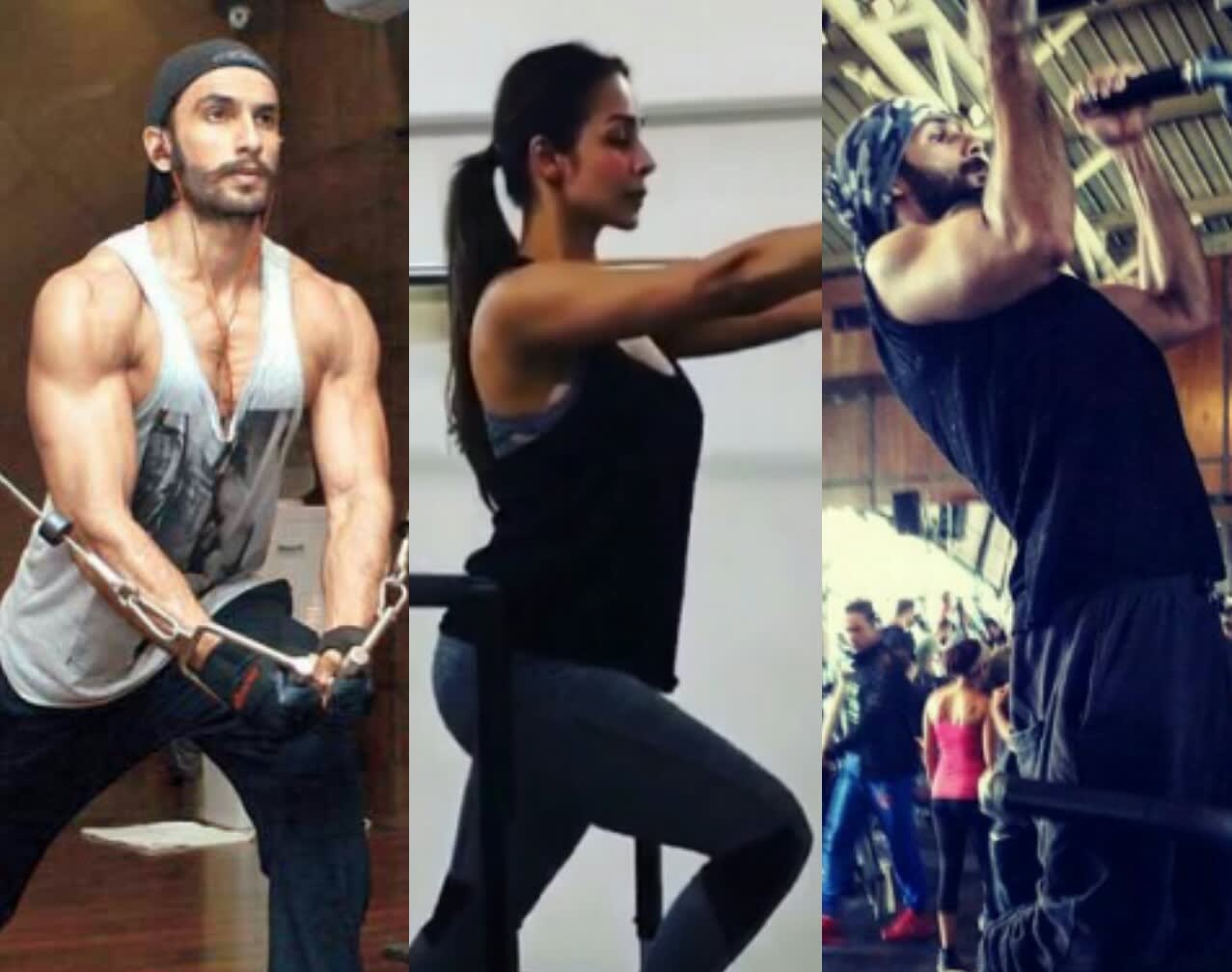 Bollywood stars never fail to impress and inspire whether it is their suit up game or the casual look at the airport. We are astonished how they keep their gym wear as fashionable as street wear. Looking good in gym is something that we completely give up on- the slouched lowers, over sized tees is what we see around. But Bollywood celebs love to keep themselves on fleck like no one else. Have a look at Malaika Arora Khan doing Pilates in super sexy yoga pants, Alia Bhatt hitting gym in neon collection, Hritik Roshan in his HRX clothing, Varun Dhawan, Bipasha Basu and many other celebrities who sweat in style.
Ranveer is one of the actors who have a great fashion sense and also experiment with the look. He looks really hot in printed grey west and black bottoms. His muscular body is everything that you will see on internet right now. One thing that is very much complimenting his very hot look is his cap. Generally, baseball caps are worn with the street style clothing and Ranveer cleverly added the cap in his workout wardrobe.
Alia Bhatt's gym wardrobe is worth inspirational and you can definitely take tips from her daily workout. She has been quiet active over social media about her workout regimes. Besides the basic dark colors, Alia managed to include variety of hues in her clothing. One more thing that makes Alia great in gym is her dedication. She lost 16 kg weight for her first debut 'student of the year'.  Recently, alia was seen doing Pilates, coralline and trapeze under the guidance of Yasmeen Karachiwala and totally slaying her cute looks in gym attire as well.
Hritik is one handsome that Bollywood gave us. He exactly looks like one Greek god in his workout pictures. During exercises, we shed a lot of sweat which can cause irritation in hair and forehead. We are very much convinced with the idea of Bandana. Hritik generally carries bandana with his dry fits that helps to soak up all the sweat from forehead. Now it is even simpler to get the same looks like Hritik by his own gym wear brand HRX.
If you are a gym freak and already have a nice toned abs like those of Deepika Padukone, then it's the time for you to leave those slouchy and shabby workout clothes. Get yourself some amazing sports bralettes and show off your sexy abs and back in them. You can also carry tights, yoga pants or leggings with those bralettes.
Talking about sexy and not Malaika, well that ain't a deal. Malaika ever since charmed us by her strong love for Pilates. Mother of a 13 year old, she maintained her body quite a well. Being a fashion enthusiast, she keeps her attire on top whether it is her ball look or the gym wear. Have a look at those sexy legs. Besides the tights you can also carry hot pants and shorts to the gym. It will add more attention and a fire to your regime.
All we can say is that, if yoga is this sexy when we did it, we would carry those mats everywhere.