Try your hands on this yummy Easter Recipe!
Easter Recipe from Chef Rana Dominic Gomes, Executive Chef of Hotel Royal Orchid.
Whole Roast Turkey (Serves 12)
Ingredients
For mirepoix
Onion rough cut 150 gm
Carrot 150 gm
Garlic whole cut in to halve 2 no
Celery stalk 100 gm
Leeks 100 gm
Bay leaves 2 no
Pepper corn 2 tab spn
For Marinade
Butter 100 gm
Lemon zest 1 tab spn
Lemon Juice 10 ml
Fresh Thyme Bunch 1 Aprox 50gm
Salt to taste
Black Pepper 1 tab spn
Crushed Garlic 2 tab spn
Worcestershire sauce 2 tablespoon
Red Wine 30 ml
Mustard Paste ` 2 tab spn
Olive Oil 2 tab spn
Preheat the Oven 180°c
Melt butter in a saucepan, pour in a mixing bowl and add lemon juice and thyme
Clean and pat dry the turkey, and keep aside
In another mixing bowl add olive oil, mustard paste, salt pepper, Black Pepper, Crushed Garlic, Red Wine, Worcestershire sauce mix well and keep aside to infuse well.
Wearing a glove massage the Turkey using marinade, inside and outside
Take a roasting pan, cut mirepoix roughly and spread
Stuff the remaining mirepoix inside the turkey, and place the turkey in the roasting pan
Let it cook for 30 min, baste with the butter and allow it to cook for another 15 min
Once the turkey turns golden, cover with silver foil and reduce the temperature to 120° c
And slow cook for another 1 hr
Take a wooden skewer pierce the breast and thigh; if clear liquid passes it indicate your turkey is cooked
To serve
You can make the sauce by reducing the liquid dripping collected from the roasting pan
And to accompaniment, garnish with chipolatas sausages and roasted baby potatoes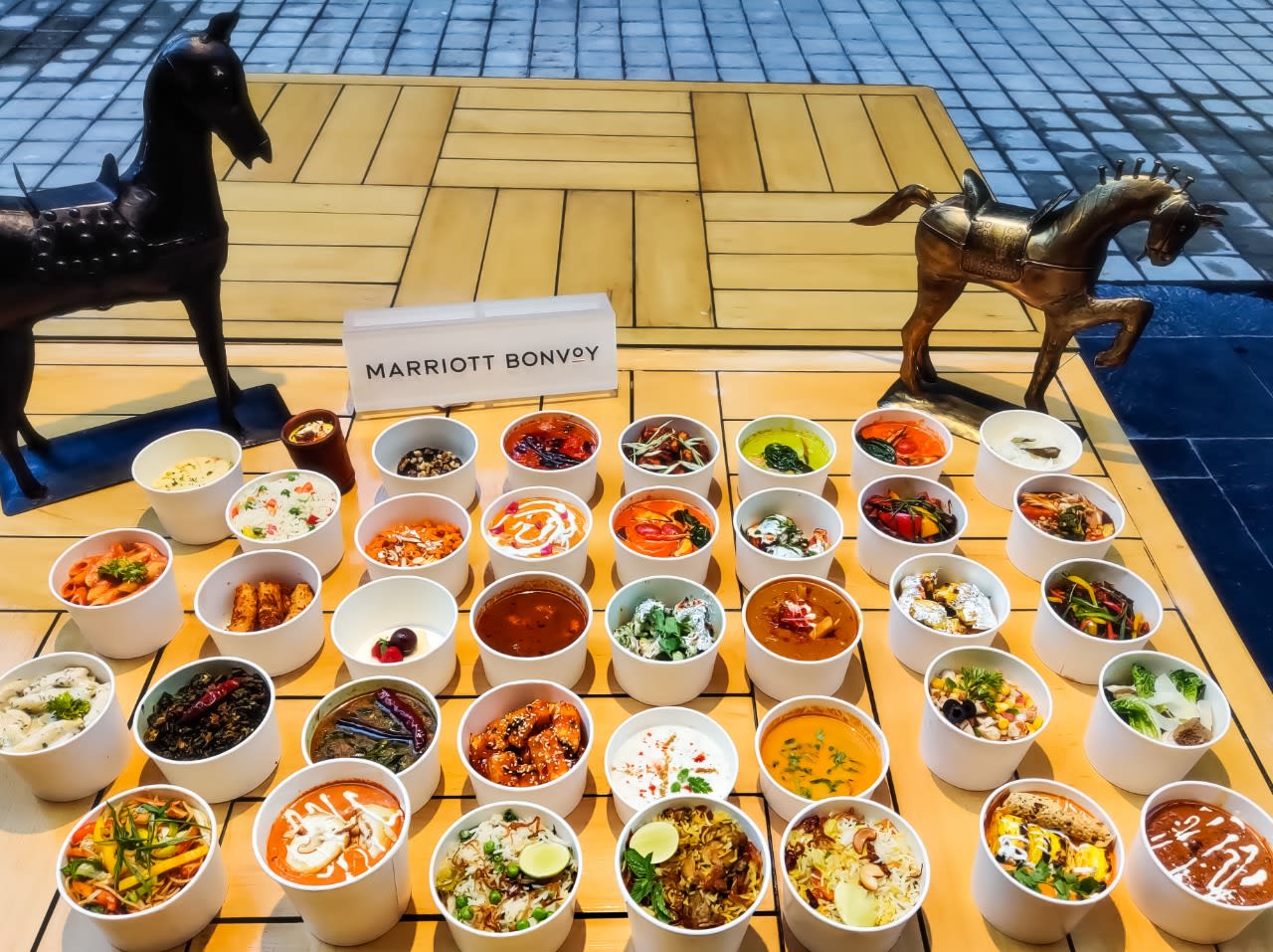 If you have been missing out on some of your favourite dishes amidst these unprecedented times, worry no more Marriott on Wheels is here! This one of a kind offering brings to you all your favourite restaurants' food at your doorstep. Indulge in flavourful culinary delights in the comfort of your home.
You can surprise your family or end a tiring workday with some scrumptious food by ordering some mouth-watering food from Renaissance Bengaluru Race Course Hotel and pamper yourself anytime, any day of the week. You can also break your fast to our bouquet of flavours delivered at your doorstep with Mehfil. Try your hands on dishes like roasted chicken, dal makhani, India combo boxes, pasta, pizzas, burani gosht and end your meal with some lip-smacking desserts like gajar ka halwa, cheese cake, phirni and so much more!
Delicious food comes home on Marriott on Wheels!
Renaissance Bengaluru Race Course Hotel
Place order with Swiggy and/or Zomato