Television series "Jana Na Dil Se Door" completed 300 episodes!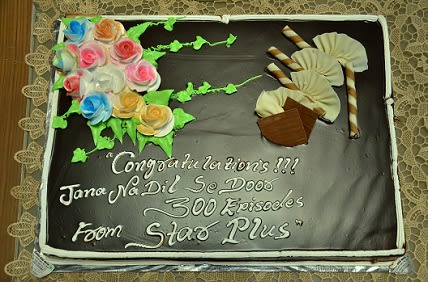 The popular television series "Jaana Na Dil Se Door" that airs on Star Plus is a powerful story of empowerment through love.  The show is produced by Beyond Dreams Production, starring Vikram Singh Chauhan, Shivani Surve and Shashank Vyas in the lead roles.
Producer Yash Patnaik's hit show "Jana Na Dil Se Door "on completing its 300 episodes marked the celebration with a cake cutting ceremony on the set in Malad. The television actors present as a part of celebration included Shashank Vyas, Shivani Surve, Shilpa Tulsekar and others.
Producer Yash Patnaik said, "Jana Na Dilse Door has been a very special show for us.. I am extremely happy with this milestone. Coming at a 5.30 slot, the show has done extremely well in terms of popularity and ratings. He tells the credit for the same goes to the writers, creatives, production and the stellar cast including Vikram Singh Chauhan, Shivani Surve, Shashank Vyas, Shilpa Tulaskar, Smita Bansal, Vineet Kumar, Aradhana Uppal, Surendra Pal, Aparna Ghoshal, Bhaviji, Sana, Manmohan Tiwari, Prashant Bhatt, Sulakshana Khatri, Ruslan and Firoza.
He further mentioned that "the subject of the show was unconventional. It was about coming to age of a Daughter, Pride of a Son, Duty of a Husband. And a love story woven around all three of them. I am glad audience accepted the characters and the story".
The buzz for the show is very strong and  we hope that the audiences love the show's story.