Shoot your romance with pre–wedding pictures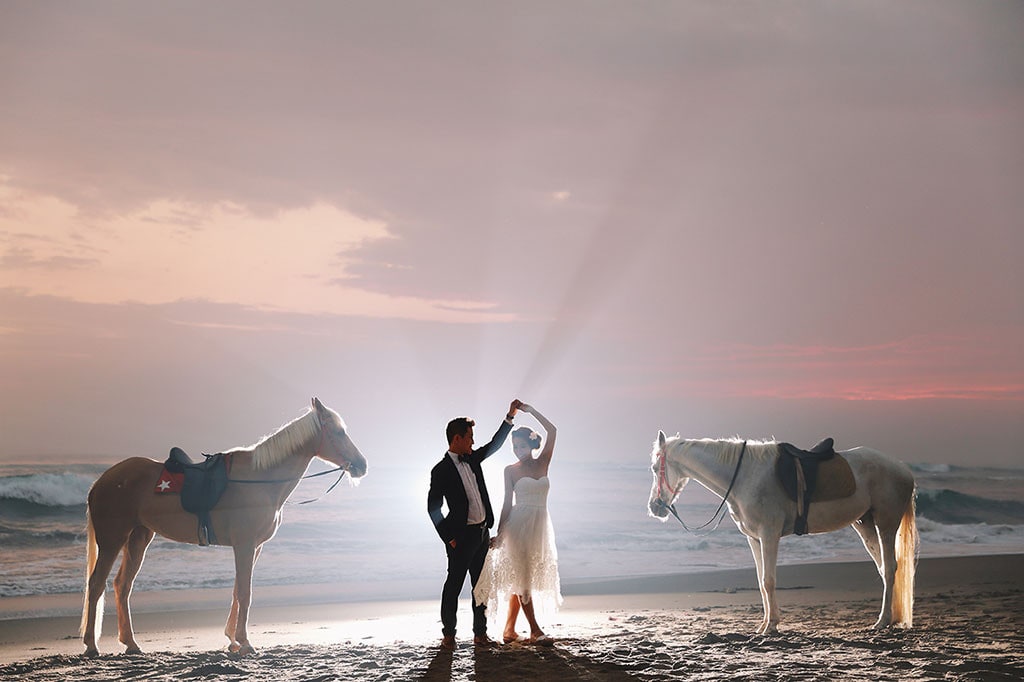 Pre-wedding shoots captures your romance and tender moments for eternity.The focus is on destressing before the wedding – reliving, reconnecting spending quality time away from family. Pre-wedding pictures are about thrill of being together, looking into each other's eyes with love and commitment. This will translate into a tighter bond called commitment and marriage.
Live-out your dream, rest your head on his shoulder with a sign and capture the essence of the thrill. Pre-wedding photos are shot when you are relaxed and spontaneous in your affection. These pictures may be selfies or you can hire a photographer. Discussing photo options with your photographer will bring him on your wavelength for creativity and style which will come into play when wedding photos are to be shot. Wedding photographs are forever, doing a pre-shoot you will know how to improvise. Here is a list to help you make appropriate arrangements for pre-wedding photos and eliminate camera nerves.
1. Browse a Photographer
Choose a photographer by comparing their previous work assignments and make sure the photographer is available on the desired date. Be comfortable and familiar with your photographer and learn from him about the best angles for your picture. This will make you more comfortable before the camera. If you were to have a pre-wedding photo shoot, you would feel at ease on your wedding day and this will be reflected in your photos.Also, ask the photographer about suggestions regarding the theme, props, location, timing like sunrise, sunset, moonlight etc.
2. Get serious about dressing up
Do not ignore your make-up and hairstyle. Pre-wedding photos will be like a trial run for the best photos. These photos makes the bride feel comfortable with her looks. Experiment and see what suits you, in colors and hair dos. Guide your makeup artist and hair stylist about the look you want. Getting yourself clicked in this get-up gives you not just the confidence but an opportunity to discover what changes are needed. Go shopping and buy the stylish clothes and accessories to look your best.
3. Scout for locations
For locations take your photographer either to your favorite places or places where you have been on dates with your fiancé or where you proposed each other. Otherwise go outdoors to popular locations like monuments, palaces, gardens, beaches, marketplaces, tourist spots etc. For variation you can ask your photographer for two different locations like a more secluded place, maybe a farmhouse, or simply your terrace or some exotic property.
4. Make your pictures awesome
By incorporating any of these timeless moments in your shoot like the railroad effect, the twirls, the jump, the kiss or the silhouette at sunset, can definitely make your pictures awesome.
5. Unleash creativity with props
To capture love stamp the bond with collective creativity and style. You can go for reflection photography as well. Props like save the date on the balloon, bubbles, lights, engagement rings, funny captions, scrabble letters, duppata, flowers or rides like cycle, or any other means of transport or maybe any animal like horse for instance, can make your pictures outstanding.
In these pictures capture the fun and the uniqueness of your romance. Togetherness, bond and love will reflect in these captured memories as you start your new life together as a married couple. You can hang these carefully orchestrated pictures in your home as a decorative piece. An evidence of an eternal love come true.
Glimpses of Ravishing Wedding Awards 2017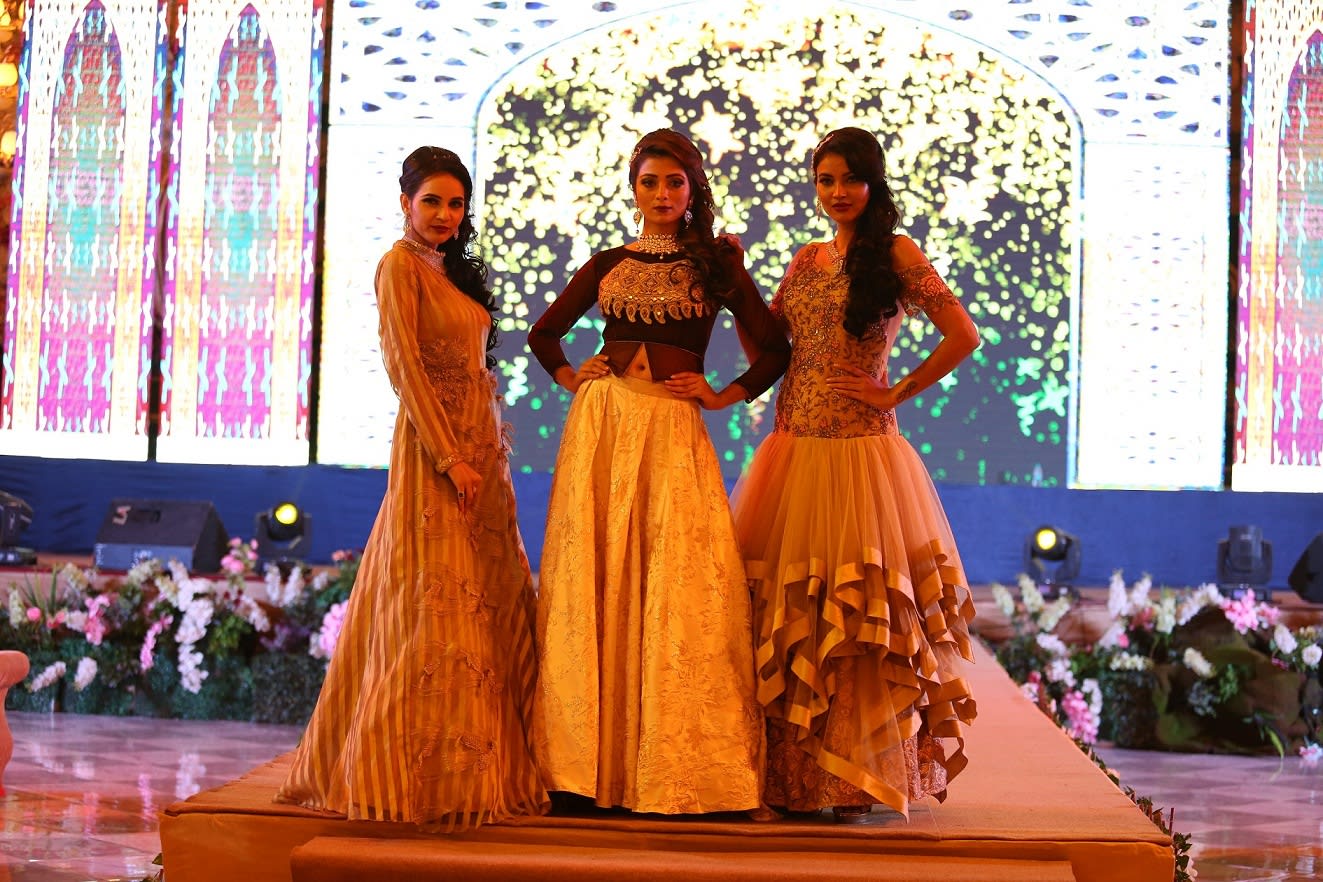 Delhi witnessed an evening as gorgeous as the celebrities and audience that graced it. The Ravishing Wedding Awards gala celebrated the achievement and eminence of the Indian wedding industry which was in full attendance at Orana Hotels & Resorts, Delhi.
Bollywood actress, the evergreen UrmilaMatondkar came on a vintage car and added glamor to the stage and the show by felicitating the winners of awards in various categories like wedding planning, catering, décor, bridal wear& groom wear designing, hair and makeup, jewelry and much more.
The event was hosted by RK Nanda and Shweta Nanda of Magic Media World and was managed by Sunny Sabharwal of Pulse Events. Anuj Bery of Murano gave support by being an associate for the show. Amit Gupta of Orana Hotels & Resorts was gracious enough to be the hospitality partner and Konica Arora dolled up the models by being the hair and makeup partner. The rock solid support of many names of the wedding fraternity was evident –Dharmendra Singh of The Wedding Frames, Rahul Makkar of Purpleberry, Suneet Jain of Armour Invites, SaurabhKatyal of Imagine Ice, Vivacity Entertainment and more.
The showstopper for the evening was literally, the stunning, Malaika Arora who, not only felicitated the winners but also walked the ramp for designer AsmaGulzar who showcased her indo-western collection title 'The Augustan Aristocracy'. Malaika dazzled in jewelry from Tirupati Jewels by Varun Mittal and took the stage with élan.
Both the actresses praised the talent and the hard work of the wedding fraternity and applauded the platform that The Ravishing Wedding Awards provided to them. Awards were given in 50 categories and won by many talented individuals like Rikant Pitti, , SumitKohli, Suneeti Soni, Manali Tanwar, AnjuLamba, KritiDS, PralayDatta, Manmeet Kaur, Shefali Agarwal, Gaurav Chauhan, RatikaVaish, YashikaSehgal, Neeti Ahuja, DushyantKathuria, TaaraMalhota, Neha Munjal, Ankita Roy and others.