Rural art of India showcased at the NYFW by Sunny Leone, Reshma Qureshi for Archana Kochhar
Actress Sunny Leone and acid attack victim Reshma Qureshi showcased the rural art of India on the runway of the ongoing New York Fashion Week (NYFW) for designer Archana Kochhar. Archana Kochhar presented her collection — A Tale of Two Travels, inspired by her travel to the Taj Mahal and a village of the Banjara tribe.
Sunny Leone, the first Bollywood actress to ever walk the ramp at NYFW, looked resplendent as the showstopper in an ivory Archana Kochhar gown. Reshma Qureshi, an acid attack victim who made worldwide headlines for her story, opened the show for the designer in a beautiful ivory gown, which was offset with digitally printed motifs, to create awareness of the initiative "Bring Beauty Back". She sashayed across the runway to promote a ban on the sale of corrosive substances used to maim thousands of women and children each year. Reshma said: "I am hoping that my participation in this runway will inspire hope and confidence in other acid attack survivors, that they can lead a normal life.

"I am so excited. It's unbelievable that I just walked at New York Fashion Week for Designer Archana Kochhar wearing her Banjara Collection. The energy here was superb and the response we received was phenomenal", shared Actress Sunny Leone immediately after the show. "I Love this gown, it looks so ethereal. Archana is my favorite Indian designer. She is someone who inspires me as a woman. She has a strong will and goes after what she wants and she is here at New York and has done a spectacular job. Very few Indian designers have reached New York Fashion Week, but she has", she further added.
"It was a surreal experience. This is arguably, the largest fashion platform in the world. It is a great honor to be one of the few Indians to have showcased at New York Fashion week, for the second time. It is one of the most professionally run events in the world. As the NYFW organizers had told me, they don't talk fashion – they own fashion", shared designer Archana Kochhar.
"I am very grateful to Sunny, who's a dear friend, and I think she looks stunning in whatever she wears. Also I am very honored to have ReshmaQureshi walking the ramp and showcasing different facets of beauty to the world.Beauty should not be affirmed by a certain height, color or size, it is beyond that. It should be an all-inclusive concept.We need such acceptance in society and I think such endeavors of mine will increase sensitivity towards this concept in our society", Kochhar further added.
"I was very excited. This was my first time at New York. I am hoping that my participation in this runway will inspire hope and confidence in other acid attack survivors, that they can lead a normal life", shared an overwhelmed Reshma Qureshi after opening the show for Designer Archana Kochhar at the New York Fashion Week.
"A tale of Two Travels" is a thoughtful creation that imparts royal individuality of the surreal Taj and gleams in the colorful essence of Banjara. The first inspiration of the collection is by the nomadic tribe of India called Banjara, known for the craft of the vibrant mesmerizing colors and rustic mirror work in India.
The color pallet of this collection is ivory offset with colorful digitally printed motifs, which is further highlighted with multi-color thread work and mirror work. The second inspiration of the collection is by the magnificent TajMahal. Depicting a dreamy vision, the collection is an exclusive range of colorful intricate digital prints depicting the vibrant symbolic motifs of the amazing TajMahal, the beautiful lotus flower, the mighty royal elephants balanced with geometric motifs.The new line is a foci of contemporary silhouettes fused with a glimpse of Indian conventional cuts to bring forward the concept of the east meets the west. The silhouettes comprised of cold shoulder crop tops, caplets, flared bellbottoms, flared skirts, pencil skirts, high waist shorts, paper bag skirts, dhoti pants, structured gowns, key hole gowns, flowy drapes and jumpsuits.
Rasika Dugal spotted wearing Vedika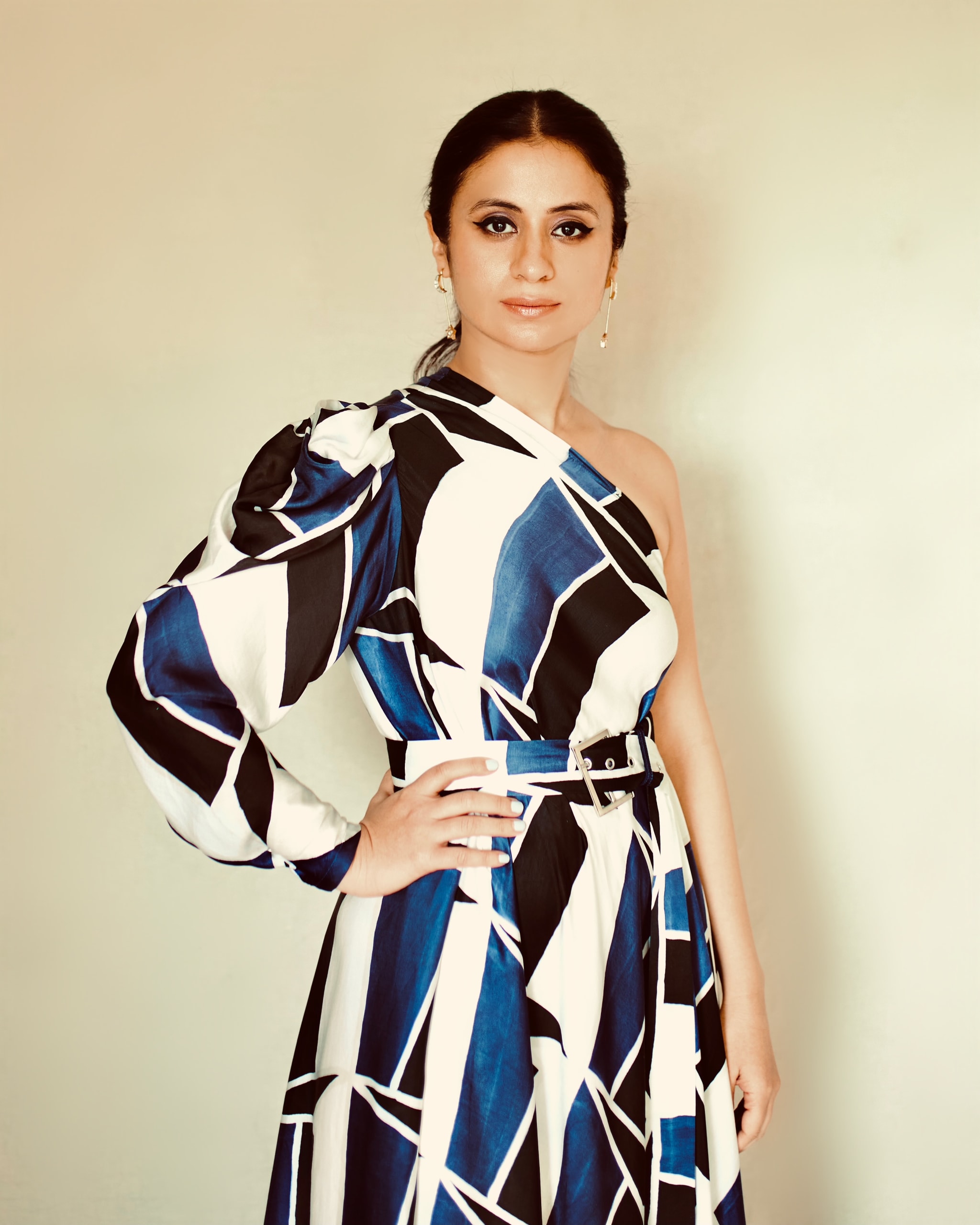 Rasika Dugal spotted wearing Vedika M's Hand brush painted one shoulder draped dress in deep blue, black & white with a belt for promotions.