Medieval charm of Bikaner beckons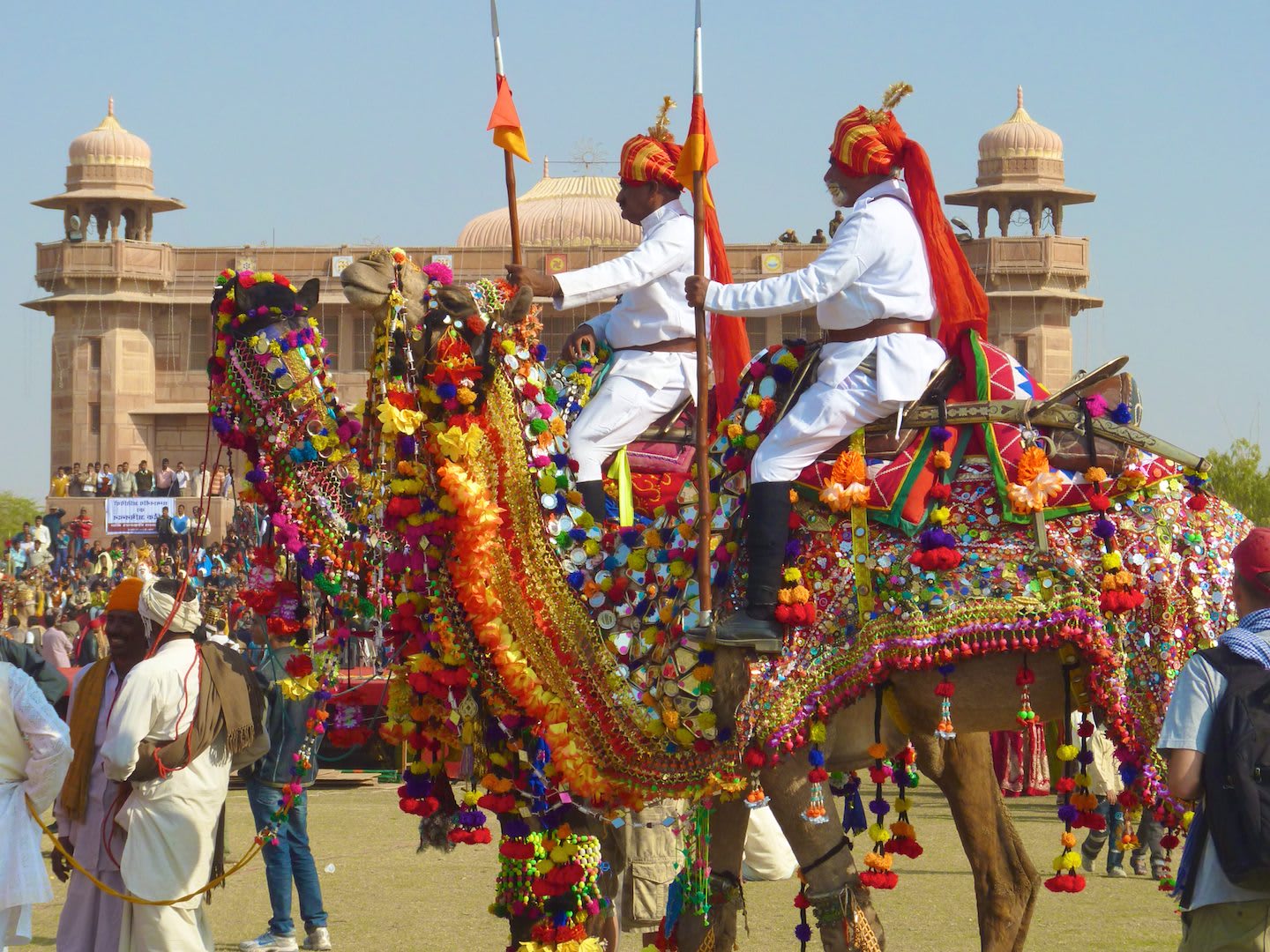 Step into a town with the medieval charm which oozes from every street. A yellowish red hue pervades the city due to the presence of red and yellow sandstone buildings. Intricately carved latticed windows and jharokhas (casements) beckon of an era where women (window to eye the proceedings outside) privacy from the public eye was a priority. The old city is encompassed by a long embattlement wall which intermittently breaks to give way to five huge gates. Relics of an era have withstood the passage of time in this land of rippling sand and scorching sun.
Today, the city spreads across the desert and has acquired expertise viz, camel breeding and dry irrigation which is unique to it. Now a major trade center for wool, building stones, carpets, blankets, salt and grain, Bikaner has emerged as the lifeline of the state. You can visit Bikaner to experience first-hand the royal hospitality, Bikaneri Bhujia, and Camel festival. See this miraculous city thriving smack in the middle of the dry arid land mass.
The city Bikaner narrates a tale of hardship and bravery of the founder, Rao Bikaji, a descendant of Rao Jodhaji, who founded this impressive city in 1488 from Bangladesh or the country of wild bushes. Legend has it that Bikaji, one of Rao Jodhaji's five sons, left his father's Durbar in annoyance after an insensitive remark from his father, the illustrious founder of Jodhpur. It has been almost 550 years since its inception.
Today, apart from the regular tourism features associated with the desert, Bikaner boasts of a unique and thriving market for various Rajasthani art forms. You can satiate your taste buds with a wide assortment of Bhujias, Rasgullas, Papad and Thandai. Also, see exquisite handicraft articles of Ivory and Lacquer. Another speciality of Bikaner is the Usta art of miniature paintings and gold embossing undertaken upon the ceilings, walls, pillars of buildings as well as wooden & glass items and ivory.
Visitors come here for Junagarh Fort, constructed in 1588 AD by Raja Rai Singh. The fort complex houses magnificent palaces constructed in red sandstone and marble. You must also visit, the Rampuria Group of Havelis (aristocratic homes) space close to one another.
Here you will get to see exotic jharokhas (casements), entrances, latticed windows, divan khanas, gumaharias or basements built of dulmera (red) stone. The massive havelis are decorated with golden work of the highest quality. Their dankhanas (drawing room) take one back to the Mughal and Rajput era. You will also notice an abundance of Victorian influence in their designs. You should also visit the Lalgarh Palace, Laxmi Nivas Palace, Karni Mata Temple and Jain Temple.
For wildlife lovers, Gajner Wildlife Sanctuary, 32 kilometres from Bikaner, on the Jaisalmer road, is a lush green forest which is a haven to the nilgai, chinkara, black buck, wild boar, flocks of imperial sand grouse and many other species of migratory birds that make the sprawling forest their winter home. This place uses to be hunting ground of maharajas. You can visit Gajner Wildlife Sanctuary between 8 am – 6 pm.
Katariasar 45 kilometres from Bikaner on the Jaipur Road is a village rich in ethnic, rural and cultural life. Experience profusion of colours beats of music and dancing. Walk on sand dunes and view the sunset against the desert landscape. The main attraction of this village is its inhabitants, the Jasnathjis, who are fire dancers. Meet the local men with moustaches in colorful turbans, cheerful women in multi-hue and kids relaxing after a harsh summer. You will also spot herds of chinkaras, desert foxes, rabbits, peacocks, parrots and partridges can be spotted here.
Explore the small villages of Rajasthan through the enthralling camel safari. You will be taken through breathtaking sand dunes, camping on the solitary oasis, enjoying the dark starry nights and musicians playing a haunting, stringed instrument. The experience is simply out of the world. You may be provided with expert guides, well versed in bush lore, botany and Ornithology.
Another way of experiencing the magic of the desert is through Jeep safaris. Desert jeep safari can prove to be most exciting and rewarding of all the safaris that you have undertaken. After all, going through a rugged terrain on a desert is not the kind of experience that you can have every other day in your life.
Distance from Delhi to Bikaner is 448 km by road (travel time is 8 hrs), by train (7 hrs) or by air (2hrs). There are 5 direct trains from New Delhi station to Bikaner. The best time to visit Bikaner is between November to February. Avoid other months as it is inconvenient due to heat.