KEEMA EGG PARCELS by Komal Taneja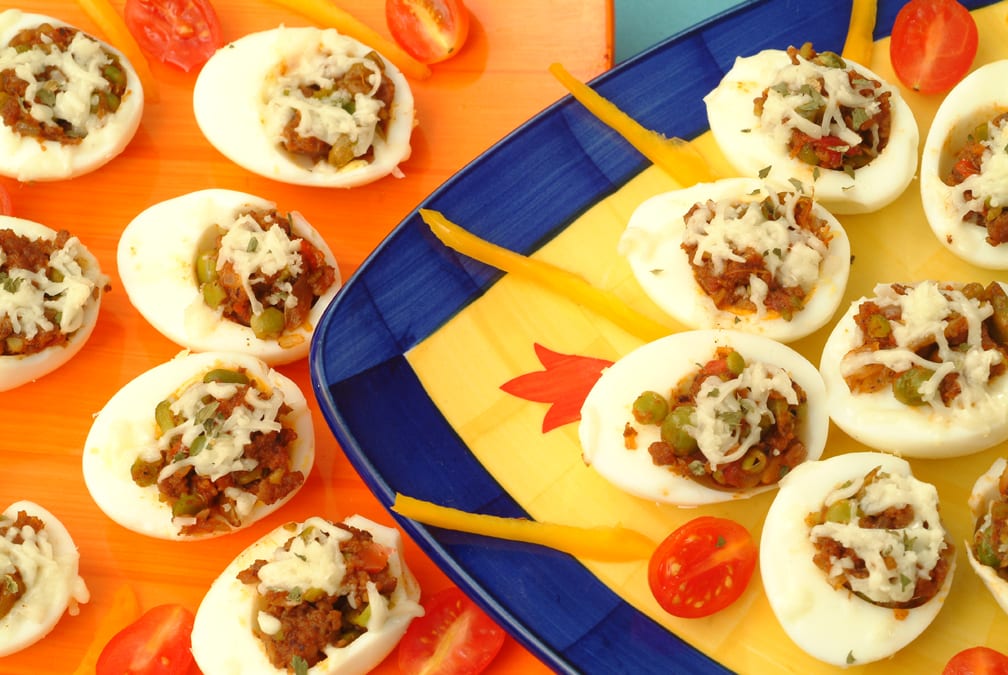 Preparation Time: -20min.
Cooking Time: -15min.
Serves: -4
Ingredients: – 8 hard-boiled eggs cut into halves with yolks removed.
For Filling: -1 cup boiled mutton and chicken keema, ½ tsp (Garlic paste, ginger paste) each, 1tbs (boiled peas, chopped onions, grated tomato) each, 1tbs oil.
Seasoning: – 1tbs lemon juice, ¼ tsp (meat masala, garm masala, biryani masala, red chilly powder, salt) each.
For Garnishing: – 1 cup grated cheese.
Method:
Heat oil in wok; stir fry the ginger and garlic paste, onions, tomatoes, to a smooth paste. Add the mutton minced, peas and sauté well.
Season with the seasoning given above.
Arrange the eggs in baking dish. Fill the keema mixture into the hollowed egg whites.
Sprinkle grated cheese over them, microwave for 5 minutes or bake pre-heated oven for 10minutes.
Serve hot with soup or salad and top it with drop of tomato sauce.
Fusion Tip: – You can fill mushroom and corn mixture in the egg white and also use the egg yolk mixture to get a creamy filling.
---
Born and brought up in Amritsar, Komal Taneja is a well-known culinary author with 31 cookery books and three coffee table books under her name.  Recipes for the Kama sutra, 365 Days of Diet with Honey by Dabur Honey and Big Bee's Secret Honey Recipes are some of her best works.