Ganesh Chaturthi celebrating the supreme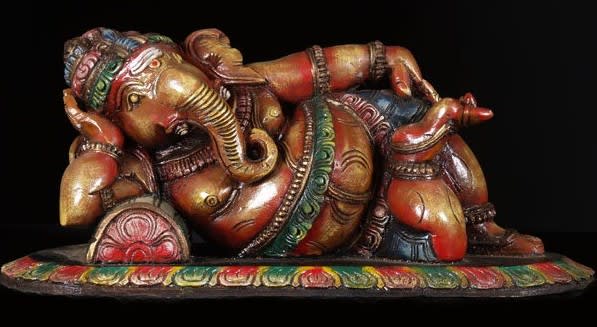 One of the most important Hindu festivals, Ganesha Chaturthi, also known as 'Vinayak Chaturthi' or 'Vinayaka Chavithi' is celebrated by Hindus with devotion and enthusiasm, as the birthday of Lord Ganesha. It is observed during the Hindu month of Bhadra (mid-August to mid-September).
The festival is celebrated by families at home, by people at their places of work and in public. The public celebration involves installing clay images of Ganesha in public pandals (temporary shrines) and group worship. Preparations for the festival begin 2-3 months prior to the day of Ganesh Chaturthi. Life-like clay models of Lord Ganesha in different sizes varying from 3/4th of an inch to 70 ft feet are made for large community celebrations.
At home, families buy a small idol beautifully sculpted idol of Lord Ganesha. A clean corner of the house is decorated with flowers and other colorful items before installing the idol on a platform. Lord Ganesh is worshiped by the offering of flowers, durva(strands of young grass), karanji and modaks. Domestic celebrations end after 1, 1 1⁄2, 3, 5, 7 or 11 days when the idol is taken for immersion with chanting, dancing and singing.
The idols are brought to "pandals" or temporary structures usually 15–20 days before. These beautifully sculpted oversized idols of Lord Ganesha are placed on a platform, in elaborately decorated outdoor tents for people to view and pay their homage. Communities compete with each other to put up a more outstanding pandal and idol of Lord Ganesha, thus paving the way to a lot of variety.
The priest, usually clad in red silk dhoti and shawl, invokes life into the idol amidst the chanting of mantras. This ritual is called 'pranapratishhtha'. After this, the 'shhodashopachara' (16 ways of paying tribute) follows. For 10 days, from Bhadrapad Shudh Chaturthi to the Ananta Chaturdashi, Ganesha is worshiped by chanting Ganesh Stutis (hymns) and devotional songs typically in the morning and evening. Along with offering puja (prayer) to Lord Ganesha, red flowers, incense, and curve grass are offered during the puja. Ganesha's favorite sweets, i.e. Modak, rice flour dumplings are mandatory offering prepared from dry fruits, coconut, and jaggery. Laddu, Paayasam are other delicacies made on the occasion of Ganesh Chaturthi. A day-long fast is observed by the devotees, which is broken only after the Ganesha puja and aarti in the evening. Also, read about Ganesh Chaturthi vrat (fast).
On the 11th day, the image is taken through the streets in a procession accompanied by sound of exciting drumbeats, devotional songs, dancing and exploding firecracker to be immersed in a river or the sea symbolizing a ritual see-off of the Lord on his journey towards his abode in Kailash while taking away with him the misfortunes of all man. All join in this final procession shouting "Ganapathi Bappa Morya, Purchya Varshi Laukariya" (O father Ganesha, come again early next year). After the final offering of coconuts, flowers, and camphor, people carry the idol to the river to immerse it.
Lord Ganesh is popularly known as "Vigana Harta" and "Buddhi Pradaayaka" i.e. one who removes obstacles and grants intelligence. Lord Ganpati blessings are invoked at every religious ceremony.  While, Ganesh Chaturthi is celebrated throughout India, but a grand celebration is observed in almost all the southern states of India. One of the most spectacular celebrations takes place at the Siddhivinayak temple, in Mumbai where numerous devotees come from across India to join in the prayers and celebrations. Based on the historical fact, it is believed that in Maharashtra, the great Maratha ruler Chhatrapati Shivaji started the grand celebrations of Ganesh Chaturthi to promote culture and nationalism.
Wish you a Happy and a Blessed Ganesh Chaturthi.
Yesha Rughani from Hero Gayab Mode On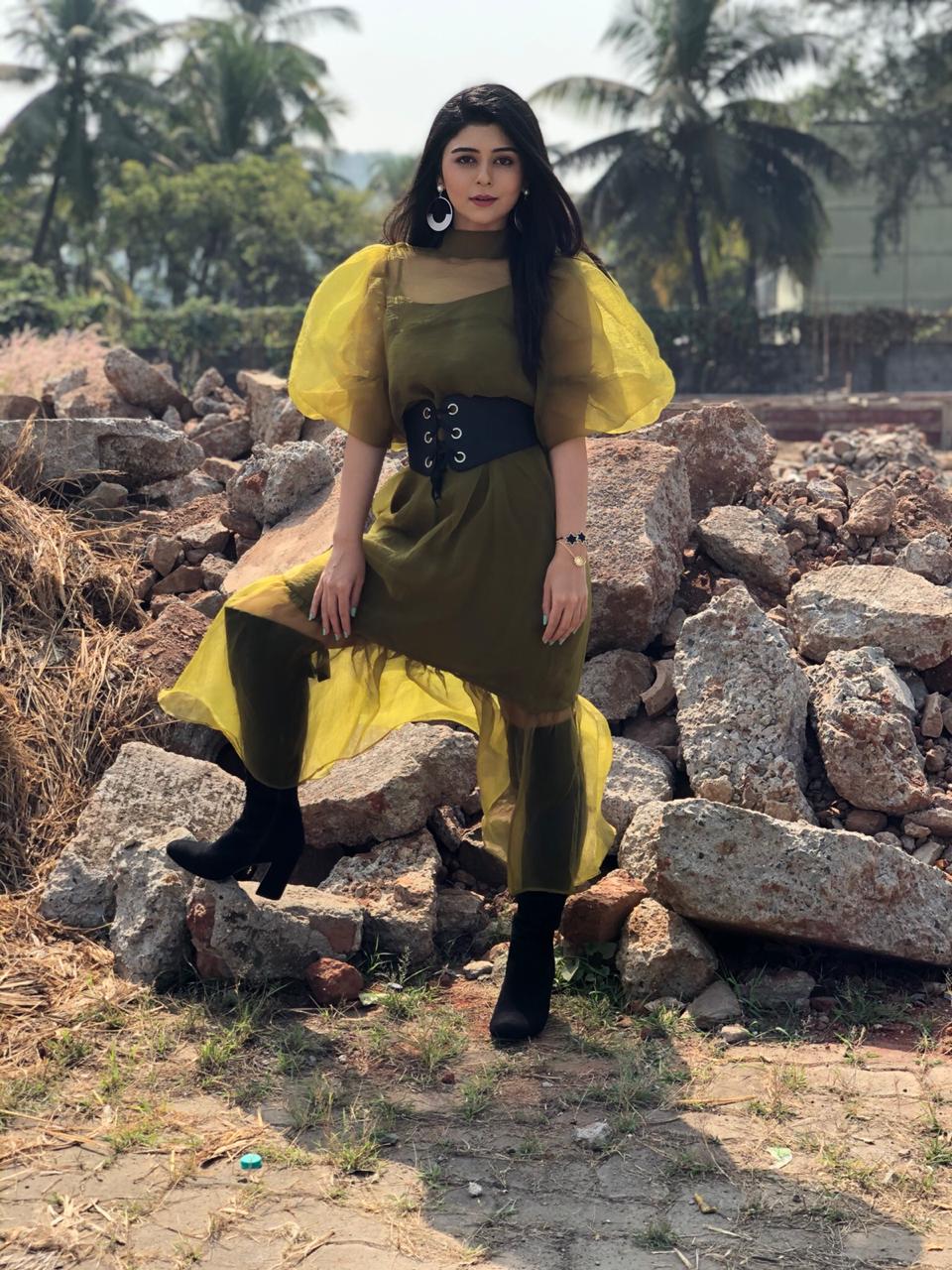 Working during a pandemic is no easy feat, but actor Yesha Rughani, who was last seen in Muskaan, says that all precautions are being taken on the sets of her brand her show Hero Gayab Mode On. Talking about it, she says, "I think new normal has become a lifestyle now. Whether I am going for work or something else, I have to follow precautions. Obviously, you are scared. But on the set, we take many precautions, medical people are there, they check us every day. The makeup and hair stylists are wearing their kits. So, I think overall it's a secure working environment. I hope everybody stays well and fit."
The actor is back on the sets after almost a year and is loving it. "We wrapped up Muskaan's shoot in December last year and this show is launching December. We have started shooting from November so I think almost a year. It just feels too good to be back and I think I have been missing being onscreen. I missed shooting and I am loving the feeling of getting on the makeup chair, the entire routine, listening to action, cut, roll each and every minute detail of shoot life. It's fabulous to be back," she says.
In fact, she's got a lot of appreciation for her look too. "I rejuvenated myself during this break. I got into this healing thing where I was on a strict detox and my skin healed, my hair, my body healed. I was in my comfort zone and used to wake up on time and follow a proper routine, even though there was a lockdown. I had ample time in the lockdown to take care of myself. I am fresh as a flower now and all set to rock again. For the new look, I am getting really good reviews because people are seeing me like this onscreen for the very first time. My first two roles were very different. So, seeing me in a totally different avatar with short hair is exciting. I have really lost weight, there is a different kind of look and feel to the role. I am getting a very good reaction and I am loving it," she says.
Meanwhile, Yesha started a balloon business too during the lockdown and plans on balancing both her acting and business venture. "Lockdown has, of course, changed our lives in many ways from being able to value things to be grateful to life, self-healing and taking care of yourself, self-discipline. I ventured into a new business. I love to be very busy so I think it wouldn't be a problem to manage both the things. I have my sister also who is taking care of this business, apart from me. I think it works for us. I also carry my laptop and everything to shoot so that if I get some time, I make some designs and send them across. I think it's going to be fun to manage both," she says.