Fasting for health, wealth and prosperity
Ganesh Chaturthi celebrates the birthday of the Lord of wisdom and prosperity – Lord Ganesha. This puja is the festival version of the Ganesh Vrata—also known by the name of Siddhi-Vinayaka Vratam—is done as a special vrata for the attainment of some particular end in view, usually for clearing oneself of false and unjust accusations and charges, recovering lost objects, regaining lost status, and removal of obstacles in an enterprise. It is to be performed on the fourth day of the dark fortnight. It consists of elaborate worship of Lord Ganesha with Shodashopachara (a 16 step worship) and various offerings, after appropriate Sankalpa (desire).
The divine sage Narada prescribed this vrata to Sri Krishna who wished to wipe off the dishonour of the charge of stealing the Syamantaka gem. Much later, Krishna instructed Yudhishthira to perform this vrata at the time of the Mahabharata war. This vrata was done by Devas to obtain Ambrosia on the eve of churning the ocean, by Damayanti to find her lost husband, by Lord Rama to get back Sita, by Indra to defeat Vritra Asura, by Bhagiratha to get down the celestial Ganges, by Draupadi and by Samba to get cured of incurable disease.
If you perform this vrata, you must arise early and bathe to cleanse the body. Vrata is observed from dawn to moonrise. The sankanthara vrata has to be done without eating food and water. The vrata has to be broken at the moonrise time after doing puja to the Lord Ganesha. For those who cannot observe the fast owing to a medical condition or other compelling reasons, you can drink water but not too often. Drinking too much fluid (often, even water), eating tobacco, or betel nuts, or betel leaves, or any other activity is prohibited and will break the fast. One cannot smoke or consume alcohol or eat the meat of any kind during vrata or after breaking the fast, and the fast cannot be broken with meat products.
While the other, you can keep  a less stringent Phalahar vrata (fast). Devotees are allowed to consume tea, water, juices, and coffee etc.  You are permitted to have sweets like Til ka Ladoo (sesame sweetmeat), gajak and rewari (sweets made of sesame and jaggery). You are also allowed to eat fruits.
After the ritualistic cleaning (bath) in the morning. One should either perform a small puja at their home or visit the nearest temple to offer prayers to the deity. White flower(for success and fame), Arugam grass (good luck, prosperity, and children), vermilion (sindoor brings good fortune), light incense sticks (for fame) and laddoo (sweets helps fulfill desires).  In the temples, special puja will be conducted with the chanting of sacred hymns and mantras.  This creates a perfect festive mood for the devotees, who flock the religious place to invoke Lord Ganesha and seek his blessings. The devotees can offer prasad to the deity. Sweets specially modaks are prepared by women and presented as offering to the lord and then shared as prasad among all devotees.
The fast of Ganesh Chaturthi ends after offering prayers to Lord Ganesh the next morning in a temple or at home. In order to stay concentrated, the devotees chant mantras invoking Lord Ganesha and sing bhajans in his praise.
It is believed that if one observes fast on Ganesha Chaturthi with sincerity, he/she would be blessed with health, wealth, and prosperity.

Rejuvenate with Aloe Vera's magic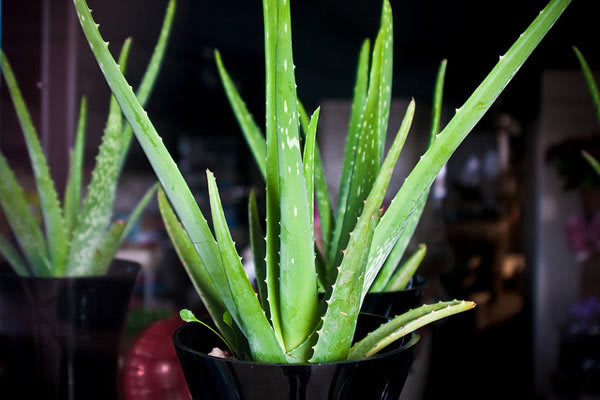 Aloe Vera needs no introduction. This incredible plant medicinal plant full of nutritional benefits has earned a permanent place in many an application from beauty creams, healthy juices, smoothies or diet supplements. It is a succulent plant and part of the lily family (Liliaceae). It has both internal and external applications thus, acting as a safe and natural healer when applied or consumed orally. Aloe Vera contains over 200 active components including vitamins, minerals, amino acids, enzymes, polysaccharide, and fatty acids. No wonder that it is beneficial in all applications.
Benefits of Aloe Vera for skin
Aloe Vera is one of the primary compounds used in the cosmetic industry. Aloe Vera soap and gel are good for the skin and nourish your skin from within, giving your skin a healthy glow. It is packed with several nutrients like glycerin, sodium palmate, sodium carbonate, sodium palm kemelate, sorbitol, etc.
Prevents early signs of aging: Wrinkles and fine lines appear as you age. Aloe Vera helps in preventing these early signs of aging. As your skin ages, it tends to get drier and loses its elasticity. This makes it more susceptible to wrinkles and fine lines. Aloe moisturizes the skin, and it also helps remove dead cells. In fact, research has proven that Aloe Vera improves the elasticity of skin and makes it smoother and suppler.  You can use it as a moisturizer to hydrate it without making it greasy.
Reduces stretch marks: With the passing of age, skin expands and contracts during pregnancy or due to rapid weight gain. The elasticity of the skin gets damaged, which results in ugly stretch marks. These marks can be healed with the regular use of Aloe Vera.
Heals acne:  Aloe Vera has antibacterial and anti-inflammatory properties because of the presence of gibberellins and auxins. This helps reduce your acne. It also contains polysaccharides that stimulate the growth of new cells. This speeds up the healing process for acne and prevents scarring.
Cures sun burnt skin: Because of its anti-inflammatory properties, it can be applied directly on the sunburnt area. It acts on the epithelial skin layer and provides a protective layer to the skin for retaining moisture. This aids in faster healing.
Heals External Wounds And Insect Bites:  Due to its medicinal properties it is great to treat wounds, bug bites or insect bites. Aloe acts to help relieve the pain of wounds and provides relieves from itching. Aloe Vera is an astringent which causes the contraction of body tissues, basically used to reduce bleeding from minor injuries.
Benefits of Aloe Vera for Health
You can detoxify the body and reduce inflammation with Aloe Vera juice.  One of the causes of inflammation is oxidative damage, which is caused due to the free radicals in your body that damage your cells. Aloe Vera is rich in antioxidants. These antioxidants bind with the free radicals and help manage the inflammation.
Aloe vera juice treats gastroesophageal reflux disease (GERD). GERD causes symptoms such as heartburn, chest pain, and trouble with swallowing, and aloe juice is an effective cure. Drink it early in the morning on an empty stomach improves digestion and cures stomach troubles. Aloe Vera has anti-inflammatory properties which soothe the stomach lining and the oesophagus. It also helps fight against pathogens that cause gastrointestinal problems, including bloating and discomfort.
Helps in treating piles. Its anti-inflammatory properties diminish inflammations inside and out and help in alleviating bowel irregularities and intestinal problems. It makes stool soft and easy to pass. Anthraquinones, one of Aloe Vera's key ingredients, help in stimulating contractions on the walls of the digestive tract.
Benefits of Aloe Vera For Hair
Aloe Vera has a chemical similar to that of keratin that rejuvenates the hair with its nutrients, giving hairs more elasticity and preventing breakage. Application of Aloe Vera powder can help promote hair growth. It can work wonders for dandruff and itchy scalp. Aloe helps in maintaining the pH balance of your hair.
As it is moisturizing in nature, it strengthens and promotes healthier hair.
Rejuvenate your entire system with Aloe Vera.