Elegance of Wedding Blossom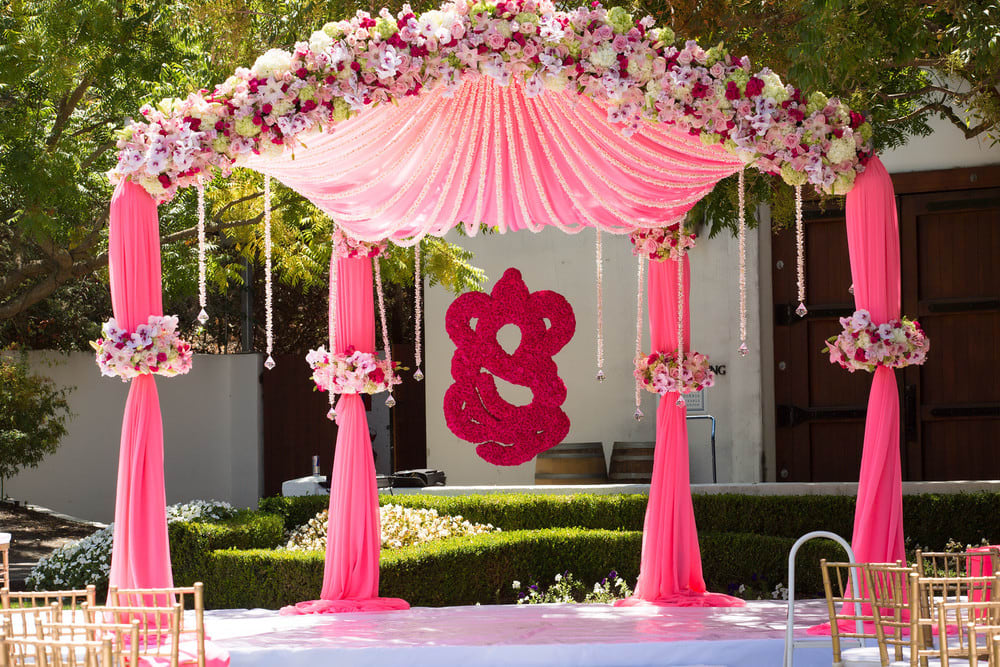 Floral decors at wedding add elegance and warmth to the whole atmosphere of a marriage ceremony. The World over flowers is among the most preferred options for preparing a celebration– specifically a wedding event.Flowers are considered to be the language of love and beauty.They play a role in the welcome shower for the bride and groom, garlands or rangolis of assorted petals. Now we have intricately woven garlands with a variety of flowers – themed mandaps, table arrangements, curtained partitions, staircases, and canopies. The sweet and soothing fragrance of the flowers enhances the feel of the occasion.
You can select different types of flowers for most of the wedding presentations in accordance with the decor in order that they will give an extra touch of freshness to your wedding decor. We here provide you with a selection of alternatives for the best floral plan and to suit the individuality of the couple based on color, fragrance, and even appearance. A trend is to theme based choice of flowers to match the dresses of bride and groom. Below are a few tips that may help you to in choosing flowers for your wedding.
Hydrangeas

Hydrangeas are perfect for wedding centerpiece or decorating a chandelier at a wedding stage. These are available in a lot many shades of pink, blue, burgundy, and purple. These create an alluring texture and can be used with a number of themes and styles and create a perfect aura.
Peony
The bright colored peony has a large head, soft and fluffy petals with strong fragrance. A bouquet made of peonies can be used to create beautiful centerpieces or stage decorations, or grace the entrance of your wedding venue. Keep in mind that this bloom is seasonally available from late spring to early summer. Peony is a flower which symbolizes cheer, love, and happiness.
Tulip
Tulip represents love and happy life. Available in a wide range of colors, including white, cream, pastel shades of pink, yellow, peach; plus vibrant hues like magenta, red, and purple. A versatile flower to enhance elegant wedding venues, bouquets to table arrangements.
Daisy
Available in a lot of varieties and even many colors, daisy is a beautiful, traditional wedding flower. Nothing can beat the beauty and charm of daisies. Whatever be the theme for your wedding, don't rule out this choice. Daisies are perfect for lifting up the mood and ambiance at your wedding venue. Symbolizing innocence and purity, this blossom has been a popular choice for bridal bouquets. You can prefer choosing the rainbow of daisies, or the classic white and yellow, daisies which are absolutely gorgeous for wedding decorations.
Orchids

Orchids are on the top of the mind when planning lavish décor arrangements. These delicate flowers are available in several in shades of green, white, purple etc. Mostly used in modern themed weddings, orchids can be the perfect choice for the backdrop chosen for photo shoot wall or main stage area.
Rose

Roses have been popularly used since centuries as the symbol of love and uplift events by its very fragrance. Available in a lot many color options, the roses provide its own charm. They are a bit sturdier than other blossoms, so they do very well make up for luxurious arrangements.
Carnation

Carnations are one of the most affordable flowers these can be used as a stage backdrop or flower balls at the entry. Available in different colors, they are add ruffled texture, a blend of vintage style to wedding decor.
Perfect color combination and a blend of soothing fragrances enlighten the ambiance for the guests and the hosts. Hopefully reading about these flowers will help your imaginations moving for innovative décor ideas. Make sure the fresh flowers are fresh and sweet smelling a visual delight.