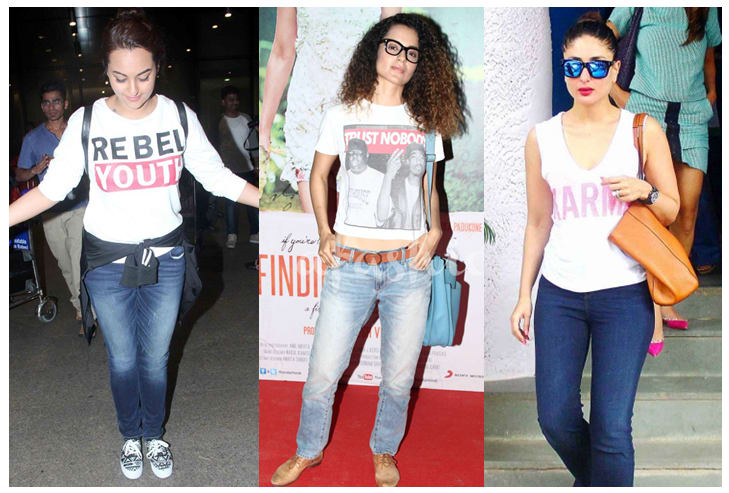 When it comes to clothing, our B-town beauties have varieties of inspiration for us whether it is the stylish red carpet gowns, accessories or the casual look. Nowadays, our trend setters are busy keeping things casual be it their airport look, the casual day out or public appearances. Queen of Bollywood Kareena kapoor, self claims that she is a no fuss woman like a regular girl; she likes to be a 'jeans and tees' kind of a person and follows no fashion. Her look of simple tee and a salwar from Jab we met broke the internet and magazines back then. All the ladies and girls started adopting her casual look. Her simple tees with quotations have always made headlines and one can definitely carry every day.
She wore a simple black t shirt with a caption 'food and wifi is love'. Relatable isn't it? She has a wise pick when it comes to colors. Hues like black, blue and pink are most wore by her during airport appearances. With the little satirical and very relatable quotations, she kept her public appearances very casual and worth adopting.
Not only kareena kapoor there are several other actors who follow the casual trend. Jackline Fernandis, paired her casual t-shirt with a stripped flared skirt. Breaking the monotonous look of Jeans and tees, her approach was innovative and perfect for casual outings. Plethora of bollywood beauties prefer wearing basics along with the jeans, shorts paired with sneakers and boots. So, girls get you some basics and tees with quotes and carry casuals with immense confidence and style. Cause you don't need to glitter to look stylish and sophisticated.