Buzzsouk in association with Author Niraj Srivastava Announces 'Know Indian History Contest'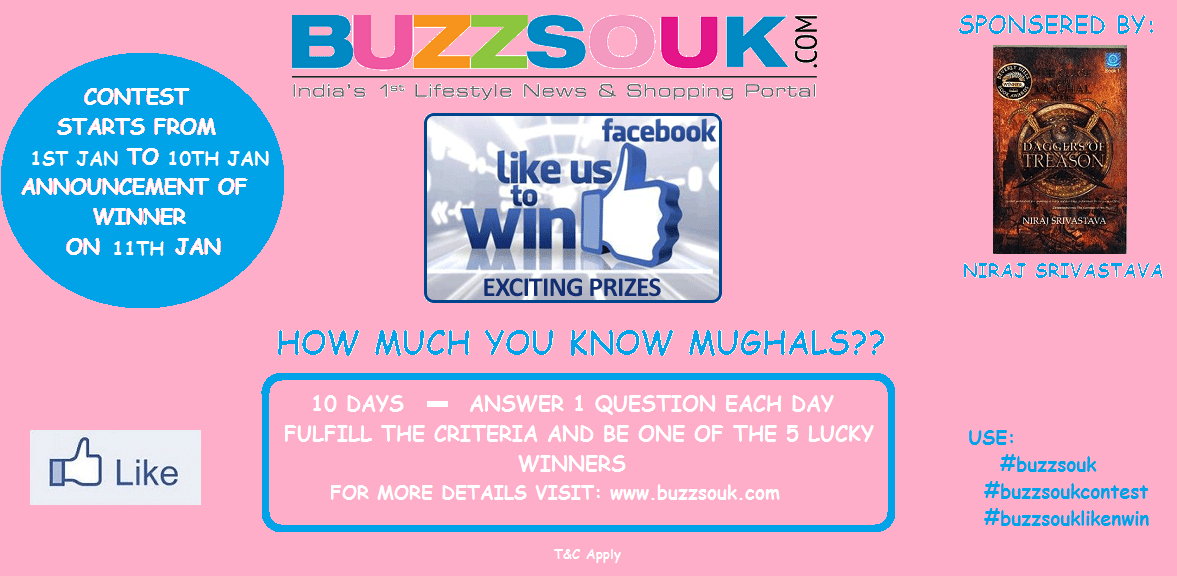 Buzzsouk in association with Niraj Srivastava, an award-winning author (5th Annual Beverly Hills Book Awards) of novel 'Daggers of Treason' announces a contest to make your New Year a real Happy New Year. There will be a 10 days quiz where Buzzsouk will ask you 1 question each day for 10 days. The questions will be very simple from Mughal Dynasty. As the book 'Daggers of Treason' (DOT) has an intense knowledge of Mughals. This novel will revive your interest in history like you had in school. But before this novel let's check how much you know Mughals!!
"For over 300 years of Mughal rule,
They sent not the spoils away,
But tried their best to bind again,
The fragmented, dissolute reigns of yore!" – A phrase from Niraj Srivastava's Poem 'Huntsmen of the North'
The Buzzsouk contest will start from 1st January 2017 and will continue till 10th January 2017. Here, Buzzsouk will ask you 10 questions, 1 question for each day and you have to answer every question every day. The contest questions will be asked on the Facebook page of Buzzsouk ( www.facebook.com/buzzsouk ) and you have to give your answer in the comment box. After the contest is over, Buzzsouk and DOT will select 5 lucky winners. To win the contest you need to fulfill the following criteria:
Criteria to follow:
Participant must have liked the Facebook page of Buzzsouk.
While answering the question, the participant must tag 3 of his /her friends and those friends must have liked the Facebook page of Buzzsouk.
There is no fee to participate in the contest(Just like the page)
Participants will receive a participation confirmation message on Facebook from Buzzsouk.
Answer of the contest question will be shared next day with the next question.
After the contest is over, the winners will be announced on Buzzsouk website through a lucky draw and will be rewarded with 'Daggers of Treason' by Niraj Shrivastava (Author Signed) and a gift worth Rs 500/- on 11th January 2017.
Acceptance of Terms and Condition of the contest.
Terms & Condition of the Contest:
Negative comments or explicit content shall be blocked and participation in the contest will be canceled.
Buzzsouk holds the rights to cancel the contest.
The final decision on lucky winners will be of Buzzsouk and it's management which is not challengeable in any court of law.
If winners fail to collect the prize within 14 days, Buzzsouk reserves all rights to withdraw the prize from the winner and pick another winner.
Participants fulfilling the criteria will be list down and the lucky 5 will be chosen by lucky draw.
Entries into the competition will be deemed as acceptance of these Terms & conditions.
Yesha Rughani from Hero Gayab Mode On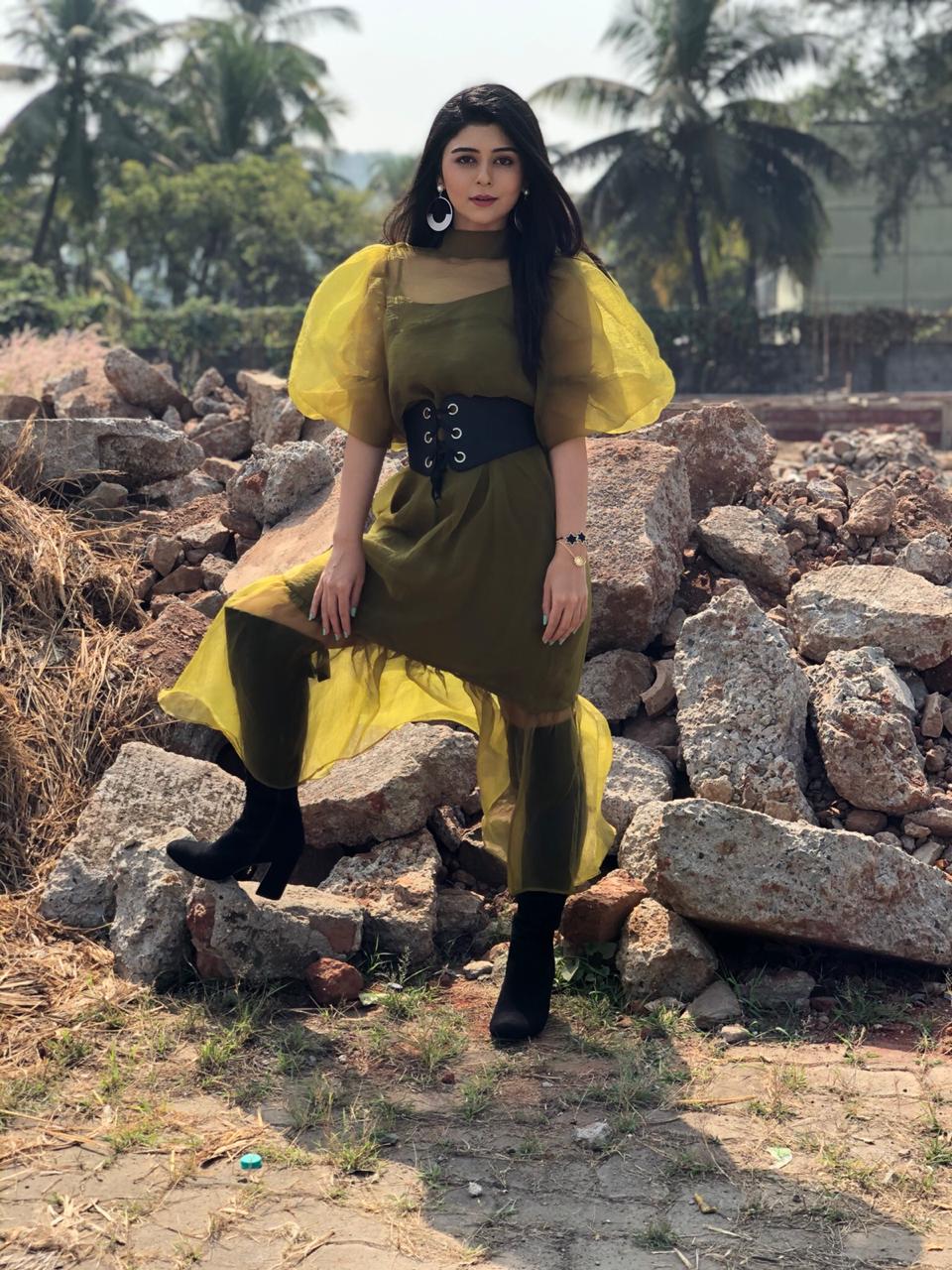 Working during a pandemic is no easy feat, but actor Yesha Rughani, who was last seen in Muskaan, says that all precautions are being taken on the sets of her brand her show Hero Gayab Mode On. Talking about it, she says, "I think new normal has become a lifestyle now. Whether I am going for work or something else, I have to follow precautions. Obviously, you are scared. But on the set, we take many precautions, medical people are there, they check us every day. The makeup and hair stylists are wearing their kits. So, I think overall it's a secure working environment. I hope everybody stays well and fit."
The actor is back on the sets after almost a year and is loving it. "We wrapped up Muskaan's shoot in December last year and this show is launching December. We have started shooting from November so I think almost a year. It just feels too good to be back and I think I have been missing being onscreen. I missed shooting and I am loving the feeling of getting on the makeup chair, the entire routine, listening to action, cut, roll each and every minute detail of shoot life. It's fabulous to be back," she says.
In fact, she's got a lot of appreciation for her look too. "I rejuvenated myself during this break. I got into this healing thing where I was on a strict detox and my skin healed, my hair, my body healed. I was in my comfort zone and used to wake up on time and follow a proper routine, even though there was a lockdown. I had ample time in the lockdown to take care of myself. I am fresh as a flower now and all set to rock again. For the new look, I am getting really good reviews because people are seeing me like this onscreen for the very first time. My first two roles were very different. So, seeing me in a totally different avatar with short hair is exciting. I have really lost weight, there is a different kind of look and feel to the role. I am getting a very good reaction and I am loving it," she says.
Meanwhile, Yesha started a balloon business too during the lockdown and plans on balancing both her acting and business venture. "Lockdown has, of course, changed our lives in many ways from being able to value things to be grateful to life, self-healing and taking care of yourself, self-discipline. I ventured into a new business. I love to be very busy so I think it wouldn't be a problem to manage both the things. I have my sister also who is taking care of this business, apart from me. I think it works for us. I also carry my laptop and everything to shoot so that if I get some time, I make some designs and send them across. I think it's going to be fun to manage both," she says.