Banka silk associated with celebrity Designer Poonam Dubey to showcase  "Loom to Wardrobe" at India Runway Week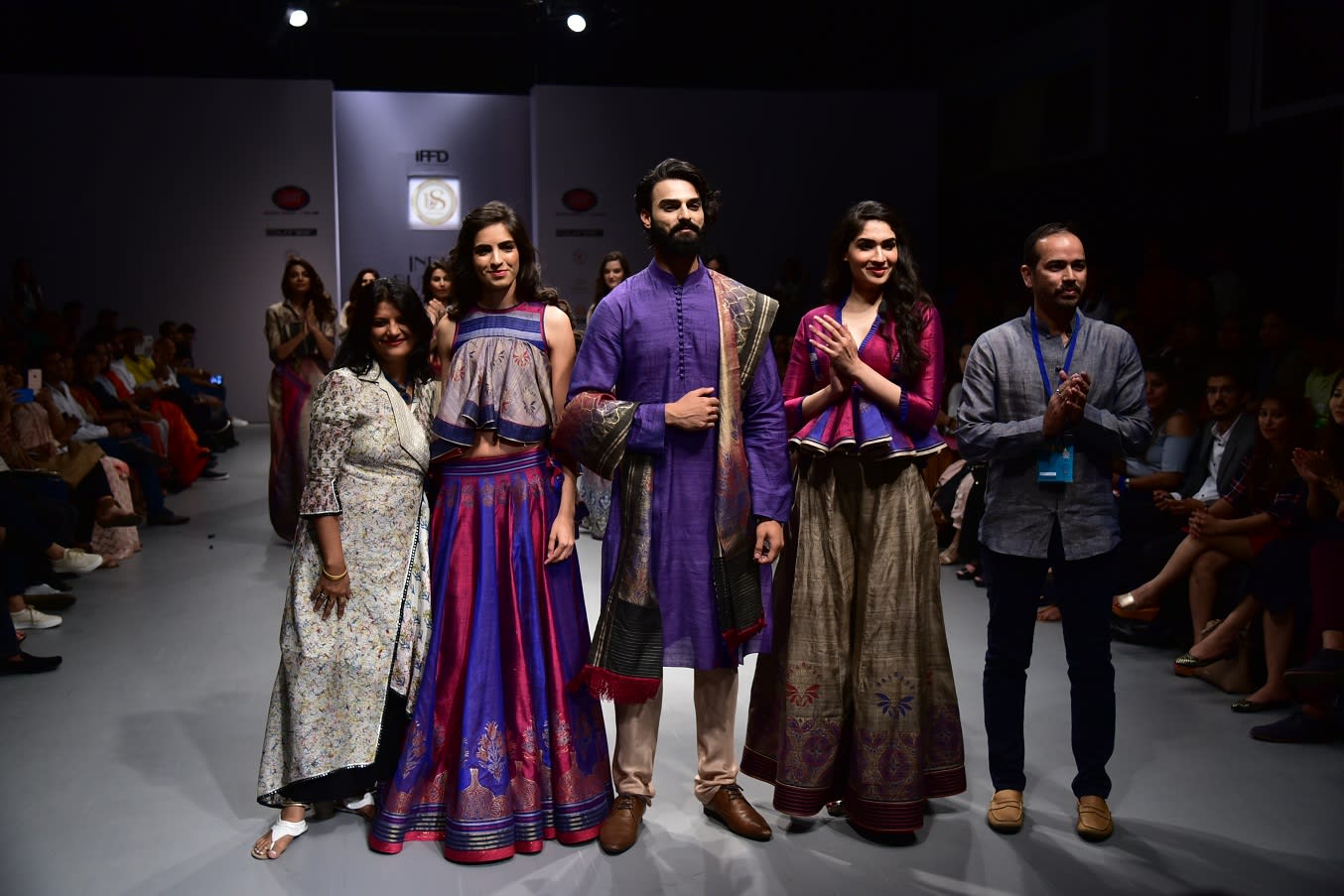 Banka Silk, an organization working for the upliftment of weavers of Banka associated with celebrated designer Poonam Dubey to showcase an inspired Mughal monuments embellishment collection of fabrics called 'Loom to Wardrobe' at India Runway week. This collection is truly special as Poonam Dubey has created ethereal pieces from the Indian textiles.
The collection in Tussar silk was inspired by the people who migrate to bigger cities in search of a better life but do not forget their roots and still want to be recognized from their village or town. Taking a cue from this feeling, Poonam created 10 styles in natural earthy colors like beige, white, gray and slightly moving towards hues like blue and magenta that truly exhibit the beauty and rustiness of the villages.  Banka Silk's show is a powerful story of a progressive and new age fashion. The highlight of the show was the treatment of handmade Mughal monuments embellishment on their creations with the use of block prints, hand painting, surface ornamentation and ornate textures on Tussar silk and linen and using weaving and traditional hand processes to achieve radical shapes.
In the words of Udyan Singh, Founder – Banka Silk, "This season, we turn the spotlight on the biggest global fashion trends and are showcasing them on the Indian ramp. Wearable tech trends will surely bring about multi-fold changes in the industry and will give Indian designers a new perspective on the already existing wave. Our aim is to introduce Banka Silk to a multitude of audience and help them in their upliftment"
According to Poonam Dubey, Designer said, "Indian weaving industry has the world's largest number of handloom weavers and an extremely rich heritage of handloom products. Despite such obvious and impressive strengths, India has not been able to ensure sustainable and satisfactory livelihoods for handloom weavers. The reality today is that majority of handloom weavers are living in poverty and are leaving the occupations.They need a helping hand to meet their needs.Udyan Singh joined the cause with the concept of Banka Silk and helped weavers to meet their livelihood by providing them with adequate training to meet the needs of dynamic world.Being from the same native place we share same interest of helping and uplifting the weavers effort"
Commenting on the same Rajeev Anand, COO – Banka Silk Said"The motto of our persistent efforts towards developing Banka Silk is to eliminate the system of middlemen and emphasizing to introduce weavers directly to the market so that they become well-groomed in terms of design and technology. One more key objective is to promote the young designers from all parts of the country to weave their visions of design by using our handloom fabrics from Banka".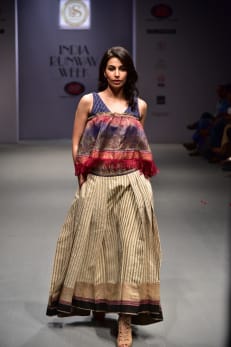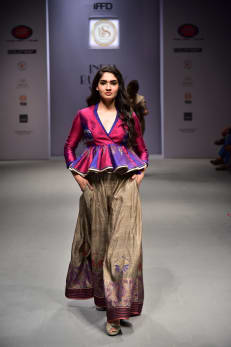 Banka Silk was established as an organization with a mandate of imparting the required skills to the weaver community of Banka, connecting them with markets and helping create an eco-system wherein the weaver community can become self-sustaining.  Its business model is based on true sustainability, community building and creating leaders. Coming from the fashion world, the founder has established a strong network backed by the phenomenal skill of silk weaving. Udyan Singh, the founder of Banka Silk, was the pioneer who helped to garner financial support for these weavers through microfinance schemes.
The families of nearly 1000 weavers earn their livelihood from Banka Silk and this number is expected to increase in coming years.  This is contrary to the current declining trend in the number of weavers in Banka in the past decade. Banka Silk has a mandate of encouraging more and more people to take up weaving as a profession and become an integral part of the century-old legacy whilst making a thriving livelihood.
Key processes used by Banka Silk include extraction of silk filaments from homegrown cocoons after which the yarns are further interlaced on handlooms using age old processes to produce various types of fabrics. Most noteworthy is the fact that the entire ecosystem is kept out of bounds from the effects of manufacturing equipment that use non-ecofriendly raw materials and processes. Even the dyes used are of vegetable origin, which ensures zero carbon footprint.
The positioning of these handloom crafted apparel have been translucent since ages which could easily be seen through this cultivating scenario of handloom sector where there is product dying, manpower dying, motivation dying, immunity dying and system dying with each passing day! Despite abundant schemes and subsidies these weavers and artisans are not able to qualify for the financial benefit which is regarding their economic uprising as well as the social empowerment. This marketing horizon would only take place when these thousands of artisans and handloom weavers would get through the channelized medium on a standardized wage rate with maximum return for their inputs and be socializing these communities on a platform where they commerce and showcase the best of their handcrafted articles which would lead them to the pinnacle of existence and empowerment.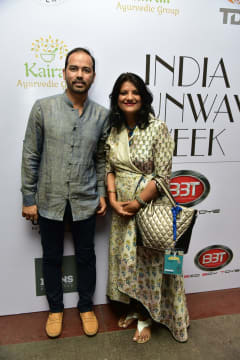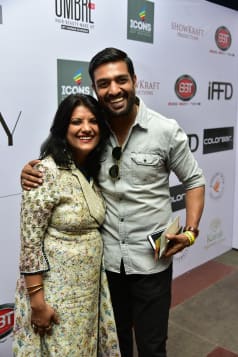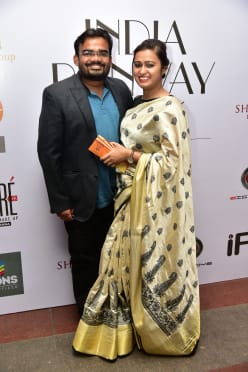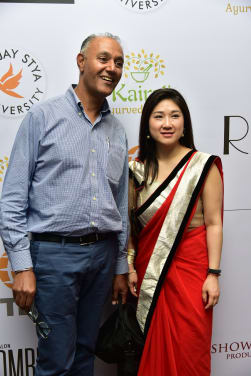 Rasika Dugal spotted wearing Vedika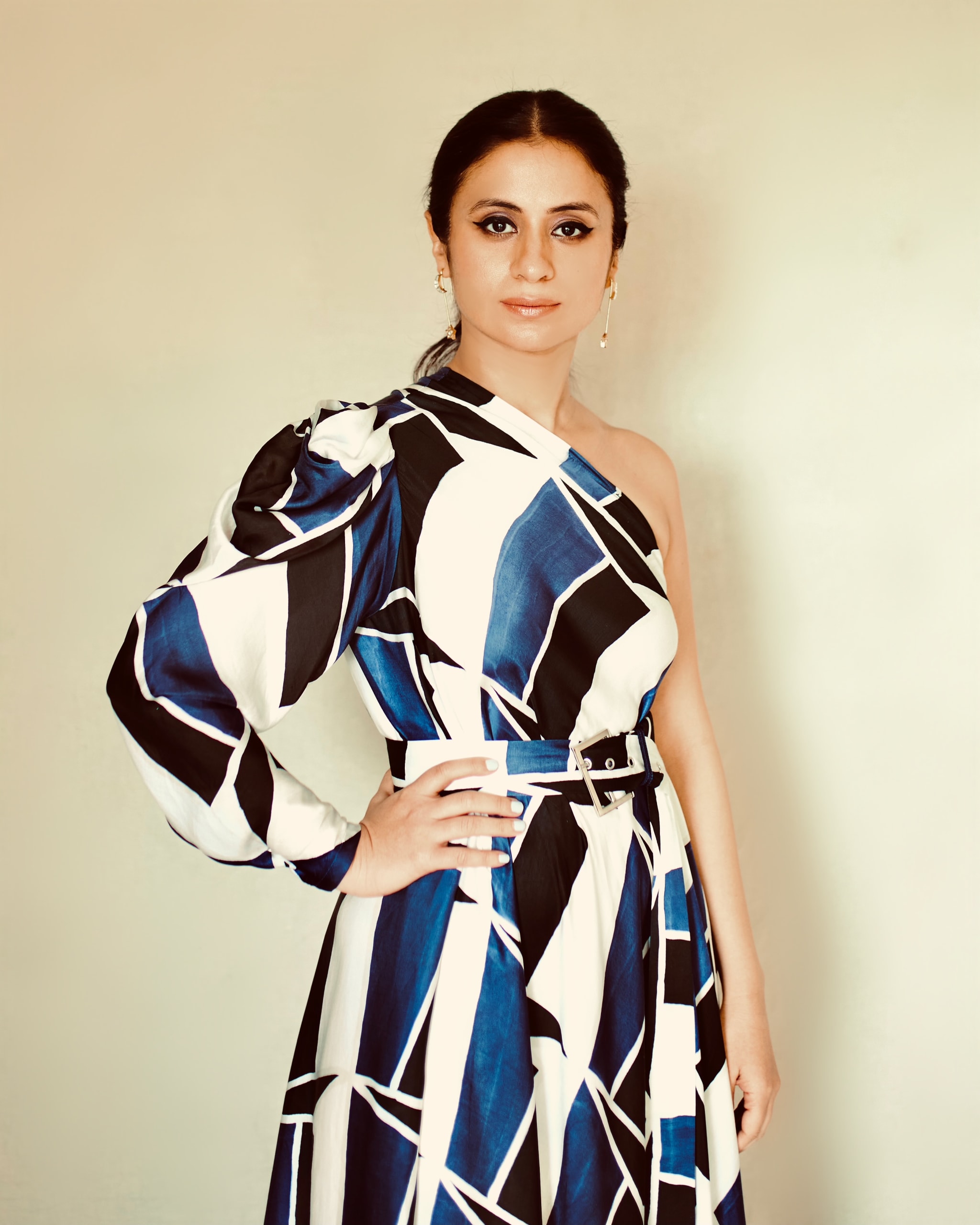 Rasika Dugal spotted wearing Vedika M's Hand brush painted one shoulder draped dress in deep blue, black & white with a belt for promotions.