Autism Centre for Excellence (ACE) Marks 9th Annual Autism Awareness Day across New Delhi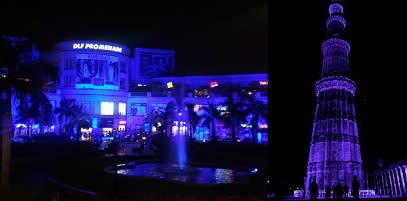 Every year, 2nd April is internationally recognized as World Autism Awareness Day and is marked by unique awareness-raising events in an effort to increase sensitization and acceptance of autism amongst the society. In the honor of this day, Autism Centre of Excellence (ACE) had undertaken a few initiatives to raise awareness and their show supported for Autism as a growing global health issue.
For the ninth year of this day, ACE had associated with ASI & National Trust, Deptt. of Empowerment of Persons with Disability, M/o SJ&E to light up Qutub Minar in the colour blue as a part of the international #lightitupblue campaign. The campaign is a symbolic representation towards inclusion for disability, and a real attempt to create a shift in consciousness. Due to its strategic location, having Qutub Minar, A UNESCO World Heritage Site, lit up in blue is a critical move in showcasing India's support for the global autism community.
Additionally, ACE had partnered up with DLF Promenade to celebrate World Autism Awareness Day, and had organized a fun-filled series of events on 2nd April 2017, including an Autism Walk around the shopping mall space, musical performances, autism information booths and a surprise performance from ACE. DLF Promenade followed the global #lightitupblue movement and will be lit up in blue.
Keeping in mind the spirit of inclusion and acceptance, ACE had also initiated collaboration with PVR Cinemas and Vkaao.com to organize a sensory friendly screening that the autism community can enjoy. The screening process was slightly modified wherein the lights turned up while the sound was turned down. Moreover, the audience was able to walk and talk freely as well. The movie screening adapted for kids on the autism spectrum was a real life opportunity for families with disabilities to participate in social events since even simple pleasures like movie watching can be a huge challenge for such individuals.