Right shoes can change your life, mood, and confidence — – Cinderella style. Shoes are essential in a woman's life. Let me tell you, that it's an eternal affair. Women love, desire and lust after flats, heels, boots, ballets, sandals, clogs, platforms, wedges, strappy, buckled, lace-ups or peep-toes. Shoes give us an instant pep, a high – no fibbing.Let me explain, stepping into high heels changes our posture, gives height, and adds on sexiness which translates into a mood swing, feeling of confidence and a swagger to our walk. Our gait translates that we are out to win the world. A pair of stilettos pushes that all out even further.
Shoes are an intimate extension of the body and seem to say so much about our attitudes, aesthetics, sexuality and social status. Here are some tips to keep in mind when shopping for heels to make sure you end up with the perfect pair for you.
Kitten heels:

Well kitten heels are perfect. As the name suggests kitten heels are the smallest heel that not only quenches the thirst of carrying a heel but also take care of your feet. If you are wearing ethnic, this is your type. The basic heels are pain-free so this heel has a healing effect too. If you have a good height then this is the heel for you.
Wedges:

Wedges are the smart shoes that every woman can own. If you want to look taller, better and comfortable then wedges are a boon. This type of heels does not have space in between which makes it more comfortable. Wedges are available in wide variety. If you are getting ready for casual dining or even brunch, wedges will be your promise shoes. You can pair them with a cute little dress and appropriate accessories.
Pump heels:

Pump heels are the beginning of arcade movement. These heels do not have any platform. Formal dressing generally has these shoes in common. A black suit and pump heels are what all corporate women want. You can wear them with casual dresses. Priyanka Chopra is a famous B-town actor who carries pump heels.
Platform heels:

Platform is called a base which is higher than the ground level. Ladies, if you are little short in height then platform heels might serve your purpose. Unlike the pump heels, they have a thicker sole which gives a comfortable yet taller rest to the feet. It is your perfect party pair. If you are planning a Saturday night get away, this shoe will woo everybody at the party. From T-straps, ankle straps to no strap platform heels are available in the market.
High heels:
High heels are the queen of all heels and the highest amongst all. They sometimes look similar to the platform heels. Shimmery dresses, simple dresses, long dresses, short dresses and evening dresses, high heels are versatile to make all your evening engagements successful. It can give you a formal as well as informal look. Always remember the 'heel-toe rule', while walking in high heels. First keep your heel on the ground followed by the toe. It will be the most comfortable way to walk around in heels for a longer period.
Heel booties and high heel boots:


Winters are incomplete without high boots. You can carry them with denim, dresses or at the office. They not only keep you warm but also stylish.
Take your pick from the above-mentioned heels for the image and comfort you want to broadcast to the world.
Rasika Dugal spotted wearing Vedika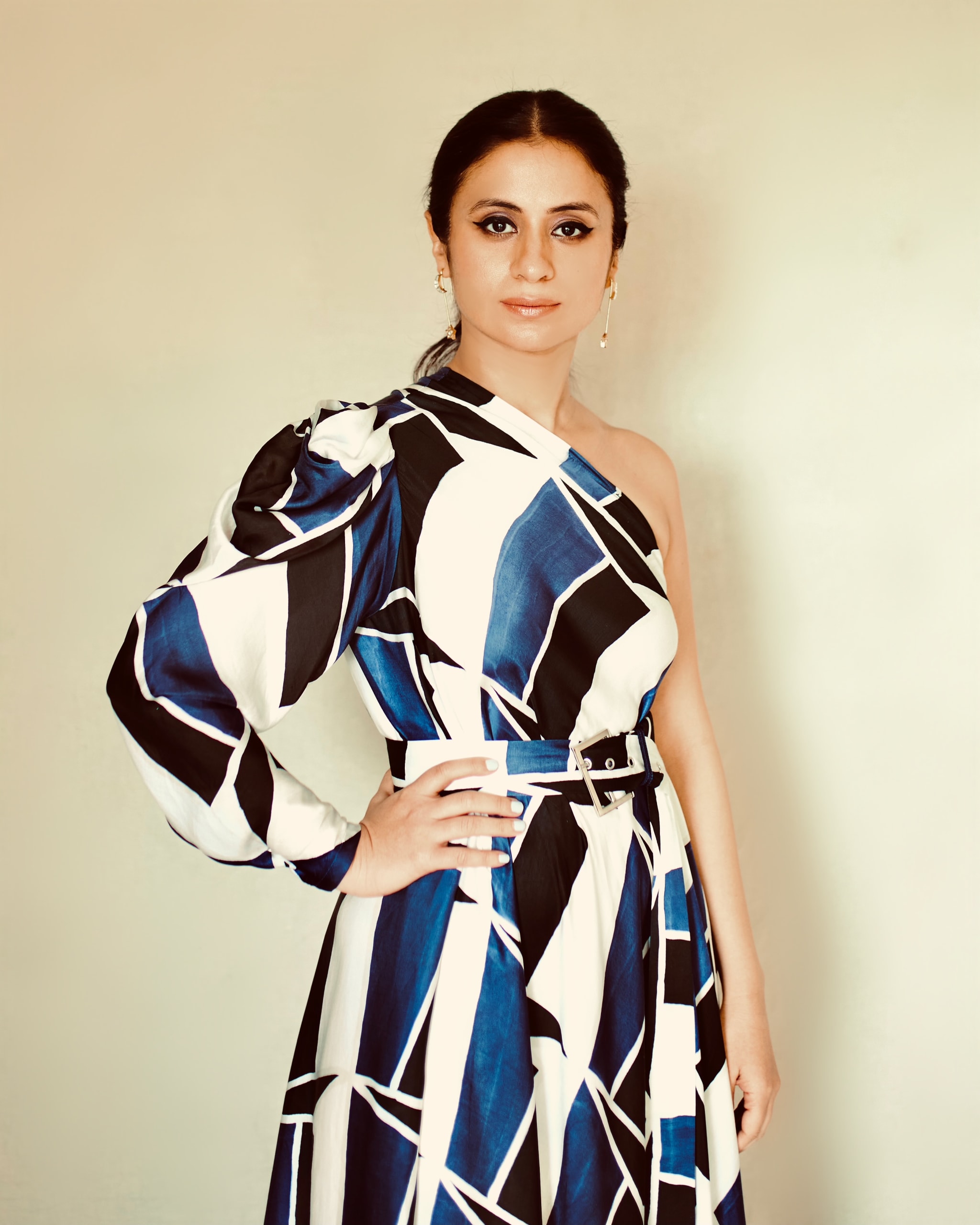 Rasika Dugal spotted wearing Vedika M's Hand brush painted one shoulder draped dress in deep blue, black & white with a belt for promotions.